Bright Bolivian Art
Strathmore presents exhibition of artist Mamani Mamani
''If you've traveled anywhere in Ecuador or Bolivia or Peru, you probably remember those great textiles that you see in all the markets over there,'' says Georgina Javor, referring to ponchos and blankets. Right now, Strathmore, where Javor is director of programming, presents a retrospective of works by the 51-year-old Bolivian artist Roberto Mamani Mamani, whose works she describes as ''incredibly vibrant ''and ''color-suffused.'' ''We think it really reflects the complexity and heritage of Andean culture and textiles.'' In particular Mamani's work represents his indigenous Aymaran heritage and features important Aymaran symbols, including mountains, suns and moons.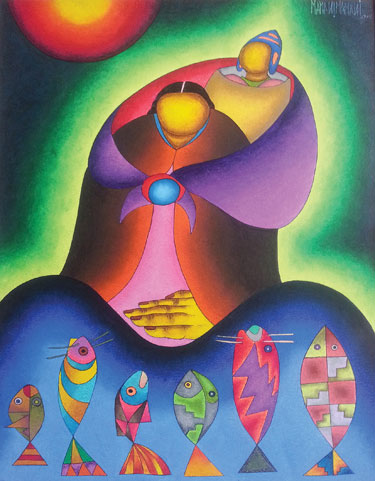 Mamani Mamani
(Photo courtesy Strathmore)
Strathmore's Color, Earth, Andes: The Art of Mamani Mamani features 25 works by the artist, as curated by Harriet Lesser. Mamani is considered a cultural treasure in his home country, but his work has previously only been shown in D.C. within the Embassy of Bolivia. ''This is the first time his work has really been open to the public in a very significant way,'' says Javor, who adds that Mamani is also important because he's working to carry on his culture's artistic traditions from his home base in La Paz, Bolivia. ''He works with young, aspiring artists and musicians to train and teach them in Aymaran and Quechuan culture that is starting to die out,'' she says. A percentage of works sold during the exhibition will assist in that cause.
Strathmore has paired the Mamani exhibition with a smaller artist showcase, Paris: Photographs by V. Michael Straus. ''Everyone thinks of Paris as the Eiffel Tower, or the galleries,'' Javor says, ''[but] this particular photographer went down all these tiny little street corners and captured all the absolutely beautiful graffiti around Paris.''
The two special exhibitions run through Jan. 4 in the First Floor Galleries in the Mansion at Strathmore, 10701 Rockville Pike, North Bethesda. Free. Call 301-581-5100 or visit strathmore.org.
---