Leather's Superheroes
Anthony Dortch celebrates several local leathermen in new art project
"When you get all these men together, and they stand in these power stances," Anthony Dortch Jr. says, "all I think of is, 'Wow, this is like the new X-Men.'"
And for his new portrait series Leather Nation, the mixed-media artist Dortch makes it so. The comics aficionado instructed several leathermen -- including the three most recent Mr. DC Eagles, plus 2010's R. Derrick Thomas and 2002's Herb Kaylor -- to have fun and strike poses as superheroes. "A lot of them just fit right into their characters," Dortch says. "I told one to be Panther. I told one to act as The Hulk."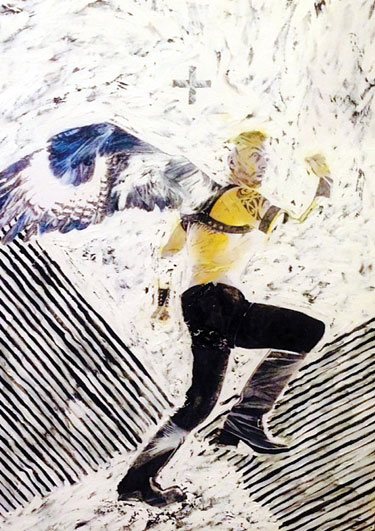 Fly (26x36 inches): Nigel Williams
(Photo by By Anthony Dortch)
Dortch started this series at the request of a manager at the Green Lantern bar, where several large pieces have been hung specifically for Mid-Atlantic Leather Weekend, Jan. 17 to 19. "I was just going to do it where I got some of the models that I've used in the past, and throw them in a leather outfit," he explains. But then a friend suggested he seek out the genuine articles instead: "Why don't you get men that are actually doing it, that actually own the gear, to pose for you?" To create his pieces, Dortch takes photographs, which he then embellishes and manipulates with acrylic paint, washes and ink -- "all put together to create these images that kind of give you a very illustrated feel."
In addition to his leather series, Dortch is also developing two graphic novels springing from his 2011 Touchstone Gallery exhibition The Privileged Series. That series was notable for its lighthearted, comics-style approach to portraying class discrepancies in modern society.
Describing himself as an outsider to the leather community, but one "slowly getting into it," Dortch seems particularly inspired by Leather Nation. Originally a one-off, MAL-related project, Dortch is considering expanding the series. "Just get as many people as I can to really showcase D.C.'s leather community," he says, adding, "Every guy that I've met so far has been hilarious, amazing and great to be around." -- Doug Rule
Pieces from Leather Nation are on display through March 31 at the Green Lantern, 1335 Green Court NW, and also at MAL's Onyx Cocktail Party on Saturday, Jan. 18, from 2 to 6 p.m., at the Hyatt Regency Washington, 400 New Jersey Ave NW. Visit facebook.com/DortchDesigns for more information.
---