Lots of Love
Gay Men's Chorus concert has 1960s theme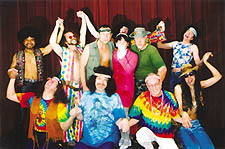 (Photo by Michael Wichita)
"People are connecting more to this music than they have to any music we've ever done," says Jeff Buhrman, artistic director of the Gay Men's Chorus of Washington, discussing GMCW's next mainstage offering, Love Is All You Need: A 1960s Extravaganza. "Every week in rehearsal, it's a 'Wow!'"
GMCW decided on a '60s theme for the spring 2003 concert slot two years ago, Buhrman explains, "not having any idea what the world situation would be " making the protest messages of songs such as "Blowin' in the Wind" and "We Shall Overcome" more than mere nostalgia. "That's the most interesting thing about rehearsing these last few months," says Buhrman. "This material is so current."
And for some chorus members, Buhrman has discovered, the music -- also touching on The Beatles, the decade's dance music, hippy-influenced pop, Motown and more -- brings up "incredibly powerful" memories of their personal life experiences at the time, from being married with children and fighting in Vietnam, to coming out at the dawn of sexual liberation and witnessing the civil rights movement first-hand.
With sets, costumes, an orchestra pit band and choreography, Love Is All You Need follows in the tradition Buhrman undertook last season with The Wizard of Oz -- that of a full-length, large-scale theatrical production each season that will help the 175-voice GMCW reach a larger audience by expanding the definition of what a chorus can entail.
"In Washington, where there are dozens of choruses," says Buhrman, "GMCW has to be a little different, and that's the stamp I've wanted to put on it -- to do things differently, to always have that edge, to always be gay, and to always do more than just entertain our audience, but move them in all different kinds of ways."
When GMCW snaps out of its '60s mode after two performances of Love Is All You Need this weekend, it will turn its full attention to a Pride concert, Everything Possible, slated for June 14 at the Kennedy Center that will feature a guest ensemble from Vancouver, the Gay, Lesbian and Supportive Singers (GLASS) Youth Choir, reflective of GMCW's increased efforts to bring a musical message of diversity to younger generations. GMCW has also formed a Youth Issues Task Force to explore the possibility of launching a similar youth ensemble here in Washington.
But if anyone wants another '60s fix from the GMCW, they won't have to wait too terribly long. This time next year, GMCW will travel back in time again with a production of Bye Bye Birdie.
The Gay Men's Chorus of Washington performs Love Is All You Need at GWU's Lisner Auditorium, 21st and H Streets NW, at 8 p.m. on Friday, March 21, and 8 p.m. on Saturday, March 22. Tickets are $15 to $35. To purchase tickets, call 202-432-SEAT or stop by Lambda Rising. To learn more about GMCW, visit www.gmcw.org.
---