Raising the Barre
Ballet Across America II showcases the ''diversity of dance in America''
''The dance world is relatively small, and many people know each other, so this is like a reunion,'' says Meg Booth, lead organizer for Ballet Across America II and dance programming director for The Kennedy Center. The biennial event brings nine dance companies to the Kennedy Center Opera House for a series of programs next week.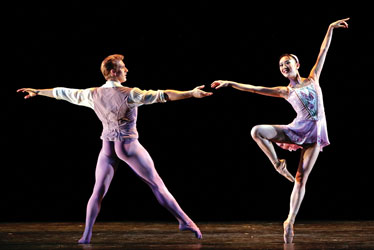 Ballet Across America II
(Photo by Amitava Sarkar)
''It's a way for companies to showcase their strengths and also celebrate their regional specialties,'' says Booth. For example, this year Ballet Memphis will perform Trey McIntyre's In Dreams to the music of Roy Orbison. The North Carolina Dance Theatre, meanwhile, in its Washington-area debut, will perform Shindig accompanied by a live bluegrass band.
''It's a great way to explore the diversity of dance in America,'' says Booth. The series can also serve as a way for the many Washington transplants to see their hometown ballet company -- or to celebrate the artistry of their adopted hometown's Suzanne Farrell Ballet, who will perform Balanchine's Monumentum Pro Gesualdo and Movements for Piano and Orchestra, set to the music of Stravinsky. Other companies to perform in three programs of mixed repertory: the Aspen Santa Fe Ballet, Ballet Arizona, Houston Ballet, New York's Joffrey Ballet, Pacific Northwest Ballet and Tulsa Ballet.
According to Booth, many future collaborations between companies are birthed backstage. And this year's event will be further enhanced by coinciding with the dance world's principal annual conference, organized by Dance/USA, to be held at the Ritz Carlton Pentagon City.
Says Booth: ''When you get that many people together, the energy is infectious."
Ballet Across America II is Tuesday, June 15, through Sunday, June 20, at the Kennedy Center Opera House. Tickets are $29 to $79. Call 202-467-4600 or visit kennedy-center.org.
---