Dancing through Wonderland
The Washington Ballet's forthcoming ''Alice'' is both a massive production and a massive hit
''It's a big one,'' says Septime Webre, ''a really loud, wild dream.''
The artistic director of the Washington Ballet isn't joking about the brand-new production Alice (in Wonderland), which is his original conception, featuring his choreography. Webre has enlisted the Washington Ballet's full ensemble of 40 adult dancers, as well as 100 children starring in two mixed repertory programs.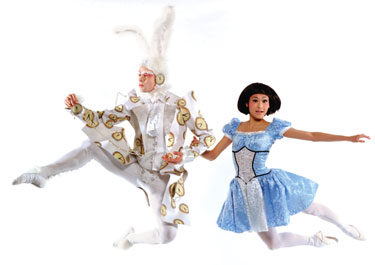 Alice
(Photo by Steve Vaccariello)
But to make it even bigger and wilder, Webre tapped designer Liz Vandal, who's most recently worked for Cirque du Soleil, to create costumes both chic and fantastical. Designer Eric Van Wyk has also heightened the experience with a puppet with a 24-foot wingspan operated by seven puppeteers. And composer Matthew Pierce has developed a slightly whimsical chamber orchestra score for nine string players and two percussionists.
The response has been big and wild, as well. ''There's almost not a ticket to be had,'' Webre says. ''It's already broken all records of all box office sales of any ballet the Washington Ballet has ever produced except for The Nutcracker.''
Clearly, people remain interested in Lewis Carroll's nearly 150-year-old classic fantasy. Webre's production draws mostly from the first book, Alice's Adventures in Wonderland, but he also incorporates elements and characters from the sequel Through The Looking Glass. Webre says growing up in a large Cuban-American family of eight kids inspired the ballet.
''I just related to the chaos that's implicit in the cast of characters in Alice's journey,'' he says. Webre himself identifies with the twin brothers Tweedledum and Tweedledee. ''I have a brother who's a year younger than I, and when we grew up we were dressed alike until we were 12 or so and rebelled.''
Several ballet companies have already signed on to stage Webre's ballet after his company, which will likely keep it in its repertoire. Next week, the Washington Ballet will announce details about next season, which will include a new production of Dracula.
But the current season ends next month with Noche Latina, a program celebrating Latin-American dance – featuring music by Astrud Gilberto and Celia Cruz. While noting there's inherent gay appeal in Alice, the gay Webre concedes that a show focused on Latin divas is ''just certainly a gay aesthetic.''
As of press time, only a few tickets remain of The Washington Ballet's Alice (In Wonderland), running Thursday, April 12, through, Sunday, April 15, at the Kennedy Center Eisenhower Theater. Remaining tickets are $59 to $118. Call 202-467-4600 or visit kennedy-center.org.
---