Uplifted: Pilobolus
Baltimore native Nile Russell was all ready to give up dancing before he discovered the dance company Pilobolus
Nile Russell was all ready to give up dancing.
''In modern dance, there were people freaking out the audience just for the sake of freaking them out, chaos for the sake of chaos,'' says Russell. ''I didn't think there was anything that was really pushing dance forward.''
In fact, Russell was preparing to become a dance teacher and leave New York when a friend dragged him to a Pilobolus audition nearly three years ago. It was love at first move. ''I had never really heard much about Pilobolus before besides the fact that they did crazy lifting and [made] all these kinds of shapes and poses,'' he says. ''But I just fell in love with the vibe, the sense of community that they just doused over everything.''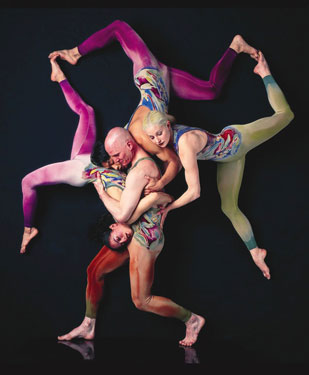 Pilobolus coming to Washington Performing Arts Society
Russell is now the associate dance captain for the Connecticut-based modern dance company, known for collaborative choreography, where every company member has input, and for the master classes it often offers on tour. ''We don't teach so much the Pilobolus technique [because] people would get hurt, we'd get sued, it'd be crazy,'' he says. ''[The focus is on] the Pilobolus idea of weight-sharing, the physics of that. Not so much lifting people, but pouring your weight into them to leave the ground.''
Russell and company will demonstrate the technique next weekend, when the Washington Performing Arts Society presents Pilobolus at Sidney Harman Hall. The troupe will perform five pieces, including a new one featuring juggler Michael Moschen and another created in collaboration with the pop band OK Go.
For Russell, performing in D.C. is almost a hometown show: He grew up just up the parkway in Baltimore and was encouraged into the arts at an early age by his mother, a violinist.
''I had many shows when I was in elementary school tapping for assemblies,'' Russell recalls, ''with my blue-sequined cummerbund, and blue-sequined bowtie, tapping myself off to 'Jingle Bell Rock.''' But Russell learned early on not to let homophobic naysayers get to him. ''I just had to live onstage – whatever was happening out there was not my concern. That was their issue. They were lucky enough to get a glimpse inside my world.''
In many ways Russell was shielded from the struggles that so many other budding gay kids encounter, thanks to strong support from his mother and a large extended family, including well over a dozen cousins who were his close friends. ''I've had a few experiences where I felt…these people are obviously just not liking me because I'm gay or because I'm black, or a situation like that,'' he says. ''But for the most part I've been pretty fortunate to have been surrounded by people that have been supportive of me no matter what. My family took less than a day to at least say, we don't understand but you're our family and we love you.''
Russell trained at the Baltimore Academy of Ballet before getting his bachelor's in dance from Connecticut College. He danced with various dance companies in New York in the years before he discovered Pilobolus. Though his long-term goal is to earn a graduate degree and become a full-fledged dance teacher, Russell intends to stick with Pilobolus for at least three more years.
''I'll assess my body around six years [with the company],'' says the 29-year-old, laughing, ''and if I need a walker, I'll gracefully bow out.''
Pilobolus performs Friday, May 11, at 8 p.m., and Saturday, May 12, at 2 p.m. and 8 p.m. Sidney Harman Hall, Harman Center for the Arts, 610 F St. NW. Tickets are $35 to $55. Call 202-547-1122 or visit shakespearetheatre.org.
---