During Kings Dominion's annual Gay and Lesbian Night, Tom Yates is generally too busy tending to the park's entrance to enjoy the rides. ''They usually let me out of the ticket booth just before the rides end,'' says the executive director of the all-volunteer Brother Help Thyself, organizer of the popular GLBT event for over a decade.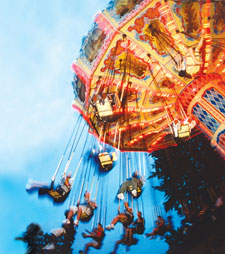 The evening is meant as a way to raise awareness -- as well as money -- for the work of BHT. Yates expects about 2,500 people at this year's event, set for next Saturday, Sept. 12.

''A lot of people associate us with AIDS charity, but Brother Help Thyself actually predates AIDS,'' says Yates. In fact, the charity consortium has been around for more than three decades. ''It was a way of supporting gay groups back when gay groups and gay-friendly groups weren't part of things like the United Way. The idea was we were going to have to help ourselves.''

While BHT still lends financial support to AIDS organizations, it also awards money to many GLBT arts and culture groups and gay sports organizations.

BHT grantees will be represented at the Kings Dominion event, but the ultimate focus of the night is entertainment. The night's main draw are the amusement park's many thrill rides -- from the Volcano Blast Coaster to the Dominator to the Drop Tower -- open from 8 to 11 p.m. The evening ends with a two-hour dance party, where DJ Drew G will spin happy house tunes from 11 p.m. to 1 a.m.

As for Yates, he'll try to cop a thrill once his official duties at the park's entrance are done.

''If I run to the other end of the park, I get to ride one rollercoaster,'' he laughs.

That certainly calls for a Rebel Yell.

BHT's Annual Gay and Lesbian Night is Saturday, Sept. 12, from 8 p.m. to 1 a.m. at Kings Dominion, Doswell, Va. Tickets are $30 in advance, $34 at the door. Call 202-347-2246 or visit www.brotherhelpthyself.org.