Broadway, take note: Lizz Winstead's big dream in life is to play Martha in a revival of Edward Albee's Who's Afraid of Virginia Woolf? "That would be an amazing role to play," says the comedienne and social commentator, almost breathlessly, without a hint of irony.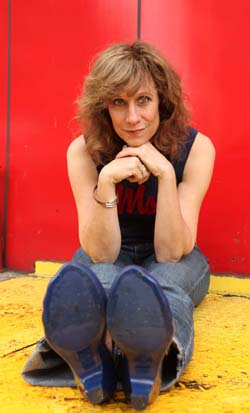 Lizz Winstead
(Photo by Mindy Tucker)
But for now the 50-year-old Winstead, celebrated for co-creating The Daily Show, is content to stand before audiences and razz, often to uproarious effect, on the current affairs of the day. "I follow politics like people follow sports," she says. "So it's really fun for me to observe the world and talk about it in a bigger sense."
These days, Winstead develops much of her material on Twitter. "I kind of use it as a virtual open mike," she says. She'll test punch lines to see what gets re-tweeted before adding a joke to a set. "People are like, 'Are you ever off the computer?' But Twitter, to me, is like sitting down and doing office work. It's an invaluable tool. It's changed the way I write completely."
A staunch liberal who champions gay rights as well as reproductive rights, Winstead recalls the first time a gay man came out to her. It was in high school, and he was part of the theater club.
"He said 'I'm gay,' and I said 'Duh.' So he's like, 'Well what do you think?' And I said, 'I think it's going to be hard. But I don't care. You're my friend and...let's just take on the assholes together, because that's basically what life is about."
Winstead laughs when asked if she's ever bombed onstage.
"Oh yeah, but not for a long time," she says. "Part of maturing as somebody who goes onstage is realizing that the only promise I can ever make to an audience is that I really care about what I'm saying and...that I think that it's worth saying. After it comes out of my mouth, the reaction is up to everybody else.... Much of it is a matter of taste. You just say, 'Well, if you didn't like me, wow, bad night for you. You picked the wrong night to come to see comedy."
Lizz Winstead appears Friday and Saturday, July 22 and 23, at 7:30 p.m. at the Arlington Cinema & Drafthouse, 2903 Columbia Pike, Arlington. Tickets are $@3. Visit arlingtondrafthouse.com. Follow Lizz on Twitter at @lizzwinstead.