Catherine Aselford and her colleagues occasionally hear eerie, unidentifiable sounds while working out of Old Town Alexandria's Athenaeum. No one's sure who, or what, exactly is haunting the Civil War-era historic building, built as a bank and now operated as an arts venue by the Northern Virginia Fine Arts Association.
''Maybe it's some [former] depositor,'' speculates Aselford about the building's ghost. ''Maybe it's an angry Union officer. But,'' she says, ''I have a feeling we might find out on the 19th." On Friday, Oct. 19, Aselford, executive director of the association, will present staged readings and productions of Edgar Allan Poe by actors with the Georgetown Theatre Company, which Aselford leads as artistic director. The event is an offshoot of an annual ''Halloween in Georgetown,'' featuring a few different Poe tales – though naturally including The Raven and The Black Cat – and a different apparition.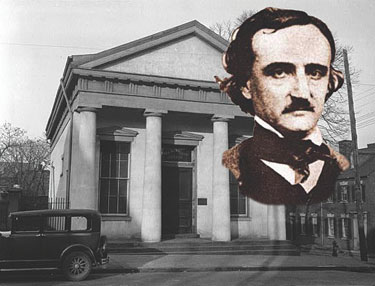 Yes, Virginia, the Athenaeum's ghost can be conjured on demand. ''By a bunch of actors it can, who play for a living,'' jokes Aselford.
The Poe readings and scheduled apparition is just one of two Halloween-themed events at the Athenaeum in the next week. A second event on Thursday, Oct. 25, features ghost stories told by local authors Michael Lee Pope and J.J. Smith, in discussion with tour guide Betty Ward. Ward will also offer a short haunted tour afterward.
Aselford, who's only been in her job at NVFAA a few months, designed both events as fundraisers to help the NVFAA with general upkeep of the historic building. They're among the first steps in Aselford's efforts to offer more and more varied programming at the Athenaeum, to complement its many art exhibits and musical and youth programs.
And why not start with Halloween?
''I love Halloween,'' concedes Aselford, an Arlington resident. ''[And] Old Town is an area that loves Halloween.''
Call it a spooky match.
''Poems & Stories of Edgar Allan Poe'' is Friday, Oct. 19, at 7 p.m., while ''Ghosts and Folklore of Alexandria'' is Thursday, Oct. 25, at 7 p.m. The Athenaeum, 201 Prince St., Alexandria. Admission is $10 to each event, including coffee and dessert reception. Call 703-548-0035 or visit nvfaa.org.