Busload
John Cameron Mitchell discusses his new film 'Shortbus'
''There are so few American films that use sex in a complicated way,'' says Shortbus director John Cameron Mitchell on a recent weekday afternoon at the Four Seasons Hotel in Georgetown. ''Either it's porn, which has its own value, or it's a kind of clichéd European art film where the sex is always associated with negativity.'' What Shortbus strives to do, says Mitchell, ''is reattach [sex] to emotion, reattach it to ideas, politics, humor, all of the things that are attached to it in real life. Don't limit yourself to thinking of explicit sex in film as porn, because explicit sex in your own life is not just porn.''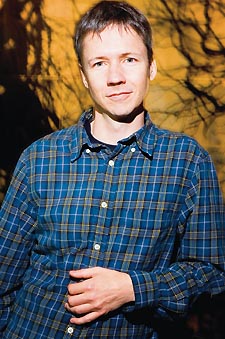 Mitchell
(Photo by Todd Franson)
A bohemian-perfumed celebration of love, sex and connecting in a post-9/11 Manhattan, Shortbus is this season's indie knockout. And it was Mitchell's promise of hardcore sex to supply momentum to his story that got Shortbus rolling.
''The film would never have been financed...without the explicit sex,'' he admits, conceding that ''even though it was hard for us to get the money because of the explicit sex.''
No traditional U.S. financing sources would touch the project. ''They all wanted to see it. They were like, 'I can't wait to see a film like this. But we can't do that -- we have a parent company to think about.' They were worried about what could happen. 'What if there's a boycott?'''
Mitchell raised the $2 million needed, half of it from foreign sources. While the notoriety has helped fuel the box office take, Mitchell has his eye on future tech as the real moneymaker: ''This is the perfect film for the [online downloading] venue.''
Mitchell, who is gay, admits to joining in on the fun during one of the film's orgy scenes. ''The actors said 'If we're gonna do it, you gotta try something.' So I eat pussy in one shot -- which I had never done before.'' He grins. ''So you can watch for the back of my head.''
Now playing at Landmark's E Street Cinema.
---