M Shutterfly
Tiona M's film, 'black./womyn.: conversations with'
Before meeting Tiona M., you might assume she's a little pretentious. No last name? Is this some sort of ''k d lang no capitals please, I'm an artist'' trip? And what's with the title of your movie? black./womyn.: conversations with lesbians of African descent.
That assumption couldn't be more wrong.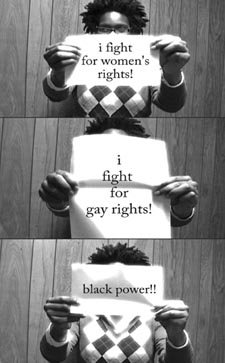 The ''M'' is for McClodden, which she says she abbreviates to save her hearing it mispronounced again. Spell it out, shorten it -- it's all fine with her. Same goes for the title of her recently completed documentary in which she has captured her interviews with 49 black lesbians. The titles, the text, are not what's important in her world. What McClodden cares about is the meat.
Dropping out of school in Atlanta, where she found herself disappointed in the quality of her education, she instead devoted herself to the teachings of a professor at a different university, committing to an informal year of film education that would give her all the technical education she needed, but no degree. Like ''McClodden,'' ''degree'' is just a word. She had more important things on her mind.
In her mid 20s, with her own money -- save for a $2,500 grant -- McClodden traveled the country capturing her interviewees' stories, acting as a one-woman film crew. After rent and phone bill, she says, all the rest went into the documentary. Don't ask how much, because thinking about it, she says, makes her cringe.
Washingtonians -- a few of whom are in the film -- will get a chance to see if it was all worth it next week when black./womyn.: conversations... makes its local debut as part of the first annual Women In The Life Foundation Film Festival.
McClodden says that while she may have been a little nervous about whether her film would find an audience, she's gratified that the response has been surprisingly positive.
''What's giving me faith is its acceptance into film festivals. I thought there was no way they were going to give my 97-minute film a slot, but I'm getting invitations.''
Black./womyn.: conversations... screens Friday, June 13, at 7 p.m. at DCJCC's Goldman Theater, 1529 16th St. NW. Tickets are $20. For more information, visit www.womeninthelife.com or www.myspace.com/tionamproductions.
---