Rock Hard
School of Rock with Jack Black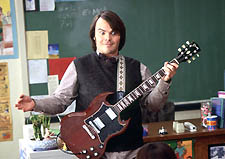 Jack Black
What happens when a mainstream movie is infused with an independent sensibility? School of Rock, that's what.
The feel-good surprise of the year, School of Rock is a wholly -- if not holy -- uplifting, joy-evoking experience. It's funny, fresh and frequently touching without once allowing itself to venture into the territory better known as dumbed down. And once word gets out -- and word will get out fast -- the masses will, I predict, flock to it in droves. Rarely do we get a movie that just works so wonderfully on every possible level.
The commercial leanings of School of Rock are all the more remarkable because of the primary filmmakers involved: director Richard Linklater, whose last cinematic foray, Waking Life, was a weird, burbling experiment in rotoscoped fantasy and screenwriter Mike White, whose odd Chuck & Buck and morosely amusing The Good Girl were anything but conventional. To be fair, Linklater has flirted with the mainstream once before in Dazed and Confused, a loose-limbed look at a group of stoners in the seventies. But School of Rock is a tighter, leaner piece of work. Using The Dead Poets Society and The Bad News Bears as obvious inspirations, School of Rock doesn't shy away from conventional plotting. Rather it embraces it wholeheartedly, with intelligence, heart, and a booster shot of soul.
It doesn't hurt matters that at the center of this masterpiece stands a towering, career-defining performance by Jack Black. A musician who goes by the name of Tenacious D, Black has had mostly bit parts in films up until 2000's High Fidelity, in which he played a loud-mouthed record store employee. Black has since capitalized on his mischievous demeanor, his abrasive, abusive delivery and his slovenly appearance in other films. But in School of Rock, Black's persona congeals into a rich and full-bodied work of art -- the character of Dewey Finn.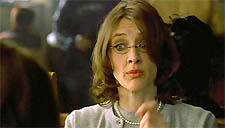 Joan Cusak
An egocentric wash-out of a would-be rock musician, Finn  is a loutish, pitiable mooch, a loser drowning (unbeknownst to him) in the sludge pile of life. In order to make a little cash, Finn misrepresents himself as his roommate -- a meek substitute teacher named Ned (White) -- and accepts a temporary job at a prestigious prep elementary school. He's ready to slack off and collect the checks. But the kids in his class -- who include every stereotype from the brash know-it-all to the shy young weight-conscious girl to the effeminate boy who adores Liza Minnelli -- set him on a path of self-discovery and redemption. Realizing that the children have profound gifts for music, he assembles them into a band and embarks on a mission to play at a local Battle of the Bands competition.
School of Rock
Starring Jack Black, Joan Cusak, and Mike White
Rated PG-13
108 Minutes
The kids respond with gusto to the interactive treatment -- taking on various responsibilities from costume design to programming a light show.
Black is such a compelling force that it's impossible to pin down his best on-screen moment. But there is one that must be singled out: a stunning scene in which Finn performs for the kids an a capella version of a rock song, complete with air guitar riffs and pantomimed drum solos, that left me thinking he should be handed an Oscar. Linklater has wisely supported his star with a group of kids who more than hold their own (standouts include Joey Gaydos as the group's gifted guitar player and Miranda Cosgrove as the sharp as a whip band manager) as well as the comically dazzling Joan Cusak, who sinks her teeth into the juicy role of school's tightly wound principal.
School of Rock goes exactly where you expect it to -- and that, in part, is part of its pleasure. When the script is good and the acting is on target, then even the most tired clichés can be revived. Linklater does more than revive, however. He redefines the meaning of quality entertainment for the masses without ever selling out.
---