Crock Rock
''Rock of Ages'' deserves a special place to suck on its own
There are two kinds of people in this world: those who think hair metal is good, and those who realize it isn't. If you're allied with the former, Rock of Ages is probably something you want to see. Here's my advice: Don't do it. Just don't.
Rock of Ages doesn't just celebrate hair metal. If it were that simple, it'd fall into the regular heap of jukebox musicals that string together boring stories with pop songs. Heads would be bopped, toes would be tapped, and audiences would be satisfied. Not this one, though. By hoisting up hair metal as rock's greatest creation – while simultaneously stripping it of any druggy or abusive blemishes – Rock of Ages deserves a special place to suck on its own.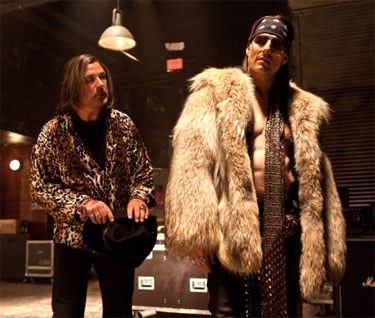 Rock of Ages: Baldwin and Cruise
The movie takes place at the twilight of hair metal's reign in West Hollywood. It's 1987, and Sherrie (Julianne Hough) is fresh off the bus from Oklahoma, dreaming big of glam stardom. After a mugger steals her suitcase and record collection, she meets Drew (Diego Boneta), a baby-faced aspiring rocker who falls for her. Drew gets Sherrie a job at the Bourbon Room – a rock venue on the Sunset Strip run by Dennis (Alec Baldwin) and Lonny (Russell Brand) – and together, they work toward achieving... blah, blah, blah.
Let's be honest: Nobody's going to see Rock of Ages for the story. The movie's appeal – really, it's only appeal, unless you've got a thing for the musical stylings of Twisted Sister, Poison and Styx – is watching Tom Cruise pretend to be a rock star. Cruise plays Stacee Jaxx, a musician who, if this movie is to be believed, wrote every hair metal hit ever recorded. He's the kind of guy who keeps his sunglasses on indoors, rarely puts on a shirt, and always wears leather pants. Stacee Jaxx, despite the movie's adamant insistence, is a jerk.
Nonetheless, Cruise is fun to watch in the middle of such a bad movie. Unlike his cast mates, he seems to be aware of how ridiculous everything he does is supposed to look. He's constantly winking at the audience by way of his performance, and because he's so weirdly intense about it, he pulls it off. If Hough and Boneta weren't so dull by comparison, and if Shankman spent more time poking fun at everything, Rock of Ages might have had a chance to not be terrible. It's occasionally on the verge of recognizing its own cheesiness, but it never reaches that sweet spot where camp thrives. Instead, it's a two-hour karaoke show that sincerely believes "Don't Stop Believing" is the perfect rock song.
ROCK OF AGES

Starring Diego Boneta, Tom Cruise, Julianne Hough
Rated PG-13
123 Minutes
Now playing
Area Theaters
I'm grasping a bit here, but if there's one saving grace to Rock of Ages, it's Mia Michaels's choreography. The former So You Think You Can Dance judge plays to each actor's dance strengths – or, in Baldwin's case, complete lack thereof – so the dance numbers are generally sharp without overreaching. Still, it's uneasy to watch. Each song is shoehorned in by way of clumsy dialogue, and most of the cast lacks the on-screen presence that these kinds of musical scenes demand.
And that's the most frustrating part of it all. For a jukebox musical based on hair metal, Rock of Ages is surprisingly devoid of the outlandish egos that made the genre notable in the first place. Again and again, these characters tell us that rock-and-roll will never die, that it taps into some immortal spirit of rebellion. But this is nothing like rebellion. This does not rock.
---