Shakespeare as Summer Sizzler
Whedon's ''Much Ado'' is a marvel, while White House Down delivers a bit of fun
This is not hyperbole: Much Ado About Nothing reflects Joss Whedon's skill as a director as much as it celebrates Shakespeare's timeless words.
(Blasphemy, you say? Best of luck trying to seize my English degree. It's hidden in an undisclosed location in suburban New Jersey.)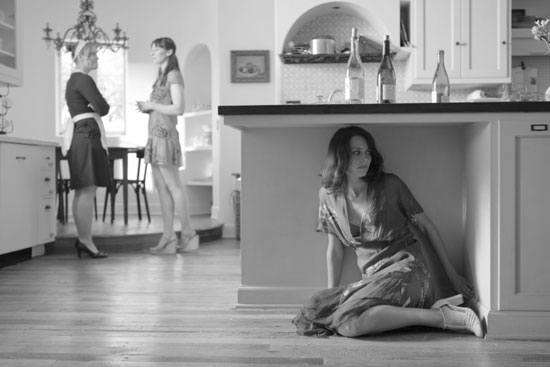 Much Ado About Nothing
(Photo by Elsa Guillet Chapuis)
In this modern-day retelling, Whedon blends Shakespeare's love of repartee and deception with his own giddy charm to create a rare beast of a movie. It's funny and it's erotic and it handles an awful lot of tricky subjects with a lightness and deft you'll rarely see in this sort of adaptation. Whedon doesn't reinvent the story in any profound way, and perhaps that's why it seems so revolutionary. Like a savvy theater director, he susses out contemporary themes from within the centuries-old text, then relies on his performers to encourage those ties between past and present.
And, oh! What a cast of performers. Whedon dug deep into his list of favorite actors to fill out much of Much Ado, including: Amy Acker (Angel, Dollhouse), Alexis Denisof (Buffy, Angel, Dollhouse), Nathan Fillion (Firefly, Serenity, Dr. Horrible's Sing-Along Blog), Clark Gregg (The Avengers), Reed Diamond (Dollhouse), Fran Kranz (Dollhouse, The Cabin in the Woods), Tom Lenk (Buffy, Angel, The Cabin in the Woods), and Sean Maher (Firefly, Serenity). The rest of the key players -- the little-known Jillian Morgese and the Internet-famous Riki Lindhome, among others -- play along the beats and rhythms as if they're old pros, too.
MUCH ADO ABOUT NOTHING





Starring Amy Acker, Alexis Denisof, Clark Gregg
Rated PG-13
107 minutes
Now playing
Landmark E Street Cinema
What makes Much Ado great, though, is its sense of timing. While he doesn't alter the original text -- to my ear, Shakespeare's lines aren't significantly changed -- Whedon inserts a handful of silent visual jokes to piggyback off of what we hear. When Claudio (Kranz) and Don Pedro (Diamond) trick Benedick (Denisof) into thinking Beatrice (Acker) loves him, they fist bump. Before the bumbling policemen Dogberry (Fillion) and Verges (Lenk) exit, they lock their keys in their squad car. These wordless cues aren't just hilarious; they legitimize the movie's present-day setting and, wonderfully enough, give each actor an opportunity to have some fun.
Much Ado is also remarkably gorgeous and shot with a keen eye for artistic balance and…. And I'm still going on and on about it like a love-struck buffoon because I don't think I've seen a movie this year I enjoyed watching as much as I enjoyed this one. Whedon's created a wine-soaked world of high spirits, tall windows, natural light and tremendous romance. What more do you need? Much Ado has its flaws, and yet I can't recommend it strongly enough. There's an incorruptible joy to this movie. It is utterly delightful. Your face with ache with happiness if you see it. Mine certainly did.
WHILE HOLLYWOOD may have hit a home run with Much Ado, Tinseltown still has an appetite problem. Look no further than Man of Steel and Star Trek Into Darkness, two of the most significant action releases of the year, and you'll see for yourself. In the midst of each movie's ambitious, anarchic climax, there's stunning lack of empathy toward innocent lives. Whole cities are leveled. Millions die. And we're still expected to cheer when the good guy prevails in the end. The bigger action gets, the more tempting it becomes to sacrifice emotion for explosions.
Blame Roland Emmerich. As the godfather of the modern disaster movie, he's indirectly responsible for popularizing this sort of mass, on-screen destruction. Which is why his latest action blockbuster, White House Down, is so perplexing.
An absurd, feverish vision of what might happen if right-wing militants assaulted D.C. in a world defined by tropes, White House Down is set almost entirely within 1600 Pennsylvania Avenue. John Cale (Channing Tatum), an aspiring Secret Service agent, is inside when they take over. Naturally, he becomes the last, best hope to save President James Sawyer (Jamie Foxx). It's Die Hard in the White House, basically. This means that the violence we see is a fraction of Emmerich's typical city-stomping ways. When Washington's landmarks explode, his cameras don't linger. The Capitol is standing one second, and the next it's a cloud of debris. This isn't a tasteful thing to do, but it's not overtly exploitative, either.
WHITE HOUSE DOWN



Starring Channing Tatum, Jamie Foxx, James Woods, Joey King
Rated PG-13
137 minutes
Opens Friday
Area theaters
White House Down is also Emmerich's least-serious movie. He embraces the ridiculous premise to great effect, landing jokes in many situations where none are deserved. (They are still, however, appreciated.) Foxx dials back his swagger to play against Tatum's casual charm, and so the duo works together splendidly. The young Joey King steals scene after scene as Cale's teenage daughter. Despite groan-worthy dialogue, an unnecessarily intricate plot, and a running time that's too long for its own good, it's hard to not enjoy these actors hamming it up. They know this is a silly movie. Everyone does. That's the attraction.
So, somehow, it's come to this. Roland Emmerich -- Mr. Aliens Blew Up The Empire State Building, Mr. Climate Change Froze The East Coast, Mr. Mayan Freaking Apocalypse -- has made the closest thing to a sensible alternative in a field of stomach-churning, self-serious action blockbusters. And he did it by burning down the White House.
Don't think too hard about that. Just watch and enjoy.
---