Cutting Edge
Scissor Sisters is the gay rock band we've been pining for
The Scissor Sisters have been on a tear since the spring, topping the album chart, selling out prestigious concert venues and scoring hit after hit in the U.K. and much of Europe. They've won praise from Kylie Minogue, Duran Duran and Elton John. But the real feat still lies ahead, as these New Yorkers prepare to bring it home and tear it up in their homeland.
Led by gay singer Jake Shears -- who provided the wry vocal delivery on Tiga's popular club reworking of Nelly's "Hot in Herre " -- the quintet releases its self-titled debut album next Tuesday. But just as Minogue can only score the occasional hit stateside, and just as Britpop-inspired acts -- or straightforward pop artists of any stripe -- can't cut through Clear Channel's musical fog, the Scissor Sisters may go unnoticed here, even with a major-label push.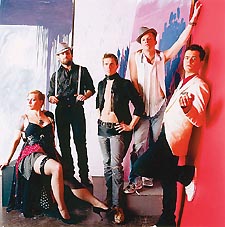 Whatever you do, don't let that happen on your watch. The Scissor Sisters deserve your undivided attention. This cutting crew -- where everyone assumes a pseudonym -- doesn't feature a lesbian among them, despite being named after slang for a lesbian sex act. The flamboyant Shears co-writes most songs with keyboardist and bass player Babydaddy, along with occasional songwriting assist from the lone female of the group, vocalist Ana Matronic. These three original members are joined by Del Marquis on guitar and the lone straight man, Paddy Boom, on drums.
The quintet has pieced together an appealing, accessible collage of pop music that draws significantly from the frilly music of the late '70s and early '80s -- with a touch of cabaret. So, you hear both the pop/rock of the Talking Heads, David Bowie and especially Elton John, and the disco/dance of the B-52's, Roxy Music and Giorgio Moroder. Not to mention early George Michael and Wham! For the most part, the band draws from each influence in a just-right measure.
And the more time you spend with the band, the more you come away with admiration and respect. For starters, there's their audacious discofied remake of Pink Floyd's high-concept "Comfortably Numb " -- complete with Shears and Matronic singing in Bee Gees-style falsetto and Frankie Goes to Hollywood-style staccato.
The band has great musical instincts, exceptional confidence, and lyrical skills to trump nearly all of their contemporaries and match most of their role models. Gay themes are woven in here and there, generally in subtle fashion, and always in a completely natural manner, never for shock value. The last track, the stately "Return to Oz, " is a wistful tune evoking Dorothy and the Wicked Witch (as well as The Eagles' "Hotel California ") in a colorless, sickly portrait of our community in thrall to addiction: "The grass is dead, the gold is brown and the sky has claws… What once was Emerald City's now a crystal town. "
"Take Your Mama, " the first single, is a PFLAG-anthem-ready-for-the-taking, urging for a little mother-gay child understanding: "Take your mama out all night/So she'll have no doubt that we're doing oh the best we can. " And then there's the hard-rock dancin' ditty "Filthy/Gorgeous, " the album's true stunner. Musically, the song seems inspired by Babydaddy's prior work as both a member of rock bands and as a dance music producer -- it's got the balls to merge hard-charging stadium rock with fancy-footwork disco. Lyrically, the song seems based on Shears' prior work as a joie-de-vivre go-go dancer in Manhattan -- he rhymes "acid " with "flaccid " in one verse, and then, this: "I'm a classy honey kissy huggy lovey dovey ghetto princess. "
Scissor Sisters is the gay rock band we've been pining for all these years.
---