Soft Sell
Marc Almond survives a near-fatal accident to record an album as gay and as good as pop music gets
Musical theater aficionados will find much to love on Stardom Road, Marc Almond's new solo album. But those who know and love him primarily as the Soft Cell singer of ''Tainted Love'' will also have to give the new set a chance. This sounds very little like that gay classic or anything else from that pioneering British synth-pop duo.
Yet the more you listen to Stardom Road, the more you realize it's not a complete departure from the Soft Cell sound -- and not just because this album is as gay (and nearly as good) as pop music gets. Soft Cell was always about sex and sleaze and drama of the first magnitude. By tuning out the synths and turning down talk of sex and sleaze, the focus is now completely on drama. The shift works, and makes sense for at least two reasons. With a few notable exceptions, solo artist Almond has shown a preference for theatrical tunes and songs more at home in a piano bar or cabaret than an amped-up pop concert. His Web site isn't titled ''The Theatre of Marc Almond'' for nothing.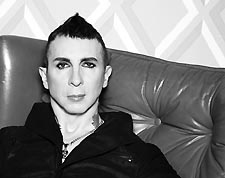 Almond Joy: Marc Almond
More to the point, the shift works because Almond's life itself has been a little bit cabaret, a whole lot theater. He's had his share of the typical pop-star struggles with love, fame and drug addiction, sure, but there was also his remarkable recovery from a major motorcycle accident less than three years ago. The accident first threatened to kill him -- he was unconscious for over two weeks -- and then, due to injuries sustained, threatened to end his career. It took him something close to a year of intense therapy and rehabilitation before he fully recovered.
He has fully recovered. An album of adroitly chosen covers, Stardom Road finds Almond as alive and lively as ever. Almond, who turns 60 next month, could create a musical about his life. But in the meantime, Stardom Road will do. Curtains rise on an opening song with strings that swell and sway as Almond sings with campy and joyous enthusiasm, not to mention increasing fervor, ''I have lived and tasted everything that called out to be tried.'' The album even ends with Almond thanking theatergoers for coming to his show in the aptly titled ''Curtain Falls.''
While only a couple of songs indirectly allude to the accident, every choice is infused with meaning by the near-death experience and the emotional aftermath that has left Almond more appreciative of life than ever. The fact that he sounds better than ever is pure icing on the cake. Almond has meticulously plotted out the set's 13 songs to roughly trace the arch of his life as a pop star -- from moving to the big city and struggling to find fame and favor, to dealing with loneliness, to finally finding happiness and contentment.
Oh, the happiness -- the gaiety -- you'll find here. The second to last song is the only one Almond wrote for the set. Lyrically inspired by Russian novelist Fyodor Dostoevsky, ''Redeem Me (Beauty Will Redeem the World)'' is an overly lush, mid-20th century-era pop number, with an orchestra and a doo-wop choir.
Marc Almond
Stardom Road
Sanctuary Records

Before that comes ''Happy Heart,'' a cover of a Petula Clark staple that shines bright. First single ''I Close My Eyes (And Count to Ten)'' is a dreamy Dusty Springfield cover. But the ultimate showstopper is ''Kitsch,'' on which Almond addresses the artifice and excess that is show business. He plays his part. In press notes, he says the song ''had to be utterly overblown, a colossal, colorful, tasteless ride to nowhere.'' He achieves this in spades, in full Andrew Lloyd Webber fashion.
Almond has a campy, old-school dramatic tenor that registers soft and pleasing even when loud. His choice to cover songs popularized by Dusty Springfield, Petula Clark and David Bowie, with lyrics and music near and dear to gay men everywhere... well, it's hard to imagine any reasonable gay man who gives Stardom Road at least half a chance disliking it.
From YouTube

Marc Almond, "Tears Run Rings" (1993)
---