Good Stuff
After a 16-year absence, the B-52s has never sounded better, proving they're still tops in the party-rock business
Can an aging band find new relevance -- or at least renewed appeal -- after a 16-year absence from the recording studio? Unlikely, no matter how great the band. But wonders never cease. The B-52s have done it with their new album. Funplex (




) finds the band in fine form. The self-described ''World's Greatest Party Band,'' together now for three decades, proves that it's still tops in the party-rock business, a sub-genre it pioneered.
A quartet with three gay members -- Keith Strickland, Fred Schneider and Kate Pierson -- The B-52s may not be as explicitly gay or metaphorically sexual in lyrics as its progeny Junior Senior, or get nearly as serious as the Scissor Sisters, but the Georgia natives also don't overdo the cute and zany as the daffy Danes often do, and they don't wallow in melancholy and heavy-heartedness as the glammy New Yorkers occasionally do.
Funplex's title track and first single is a sarcastic ode to Any Mall USA, a place for pleasure-seekers with ''no will power'' and where a ''peace sign T-shirt could cause a riot.'' It sounds like a miserable place, except: Strickland's crisp guitars and keyboard programming draw you in and make you move, Pierson and Cindy Wilson duet in characteristically joyous, soaring harmonies that make you hum along, and Schneider interjects his usual campy spoken-word observations that make you smile. ''Misery at the Funplex!'' he shouts. ''The world is goin' to hell/And what is that horrible smell?''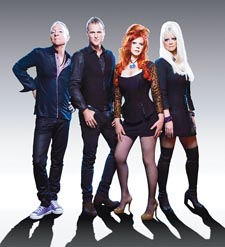 The B-52s
The band's first album since 1992's Good Stuff, Funplex was originally expected three years ago. Pierson told Metro Weekly nearly four years ago that it took over a decade of fits and starts before the four ''gelled'' again. It obviously took a bit longer to seal it. (As well as find a new label home, the well-regarded Astralwerks.) The end result is tighter than you'd expect: The B-52s have never sounded better. Much credit goes to Steve Osborne, the producer the band hired who had most notably worked with New Order and Paul Oakenfold.
The New Order influence is heard mostly on the album's second half, when the band's sound comes into its sharpest, most modern focus. ''Love in the Year 3000'' is as futuristic as the title suggests and as spacey as you'd expect from the band whose mainstream breakthrough album was titled Cosmic Thing. ''Dancing Now'' is dance rock in the best sense, with Schneider singing directly to his ex. ''Yeah, you,'' he shouts sassily, charmingly, at one point. ''I finally broke through, before I broke down/I was no fool, you messed around.'' Then Wilson and Pierson join in the fun of this empowering anthem, singing the titular refrain in beautiful, tight harmony.
As new and up to date as Funplex's sound is, the band's patented festiveness and nonsensical silliness remain intact. The band, especially known for its nearly two-decades-old hit ''Love Shack,'' with its crazy, ''tin roof, rusted'' refrain, still refers to everyday things and activities in new, extraordinarily amusing ways, from ''dress barn runway'' to a ''spandex spiral vortex'' to ''a lurex gown.'' The band sometimes overdoes the nonsense. On the title track, for example, Schneider sings the phrase ''chandalabra's in a wonder bra,'' which appears to be a too-cute-by-half metaphor for women's breasts. But even at its worst, you don't really begrudge the nonsense.
As strange as it may sound, you never get the sense the gang just slapped the lyrics or music together hastily, with little thought or reason as to what it all means or how it will be received. On the anthemic rocker ''Eyes Wide Open,'' about the need for release from a crazy world, Schneider sings, ''Love's my thing -- so good it's bad.'' Cute construction, that.
The album ends in perfectly grand, festive fashion. ''Keep This Party Going'' is another uptempo rocker about the need to party in a crazy world. This time, the party is ever-so-slightly political. ''Take this party to the White House lawn,'' the women harmonize. ''Things are down and dirty in Washington.''
The party we've been waiting 16 years for? It's finally here.
---