Vocal Glee
Idina Menzel brings her luscious Broadway voice to Wolf Trap
"I'm really excited about sharing the stage with Marvin Hamlisch," says Idina Menzel. "We might even do a song together. I'm trying to get him to come down to the piano and get off the conductor's... the conductor's..."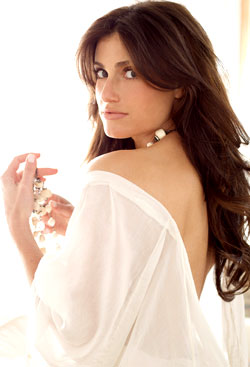 Idina Menzel
(Photo by Stewart Shining)
She pauses, searching. "This is what happens when you have a 10-month-old baby and you don't get any sleep and you try to do an interview," sighs Menzel before determining the word she's trying to summon is "podium."
Now a Broadway staple, Menzel got her professional start in 1996 as Maureen in the original cast of Rent. After a stint in Aida, she was cast in the original production of Wicked. Her performance of Elphaba, the Wicked Witch of the West, won her a Tony. But she's likely to become a household name for her recurring role on Glee, which has changed, as she puts it her "scope of recognition." She plays Shelby Corcoran, coach of rival glee club Vocal Adrenaline, and, it was recently revealed, biological mother of Lea Michele's character Rachel. It was an inspired bit of casting, one that played on Michele's startling resemblance to Menzel.
This Saturday, July 17, Menzel will bring her big, luscious voice to Wolf Trap, where she'll appear with Hamlisch and the NSO Pops. Recently, she's been traveling the country performing her repertoire with different orchestras.
"It's an exhilarating feeling," she says. "I've gotten to revisit a lot of my music. And I've really discovered a lot about myself and my voice."
Naturally, Menzel is deeply appreciative of her gay fan base. "I always wondered what all those boys were doing in the audience," she jokes, before turning serious. "My most beloved audience is my gay friends. And my most vocal audience is my gay friends."
So, is she destined to become the next gay icon, following in the footsteps of Barbra, Judy and Bette? "I hope so," she says with a laugh. "I think when I played a lesbian in Rent, I started on that track." --Randy Shulman
Idina Menzel will appear with the NSO Pops on Saturday, July 17 at 8:15 p.m. at Wolf Trap in Vienna, Va. Tickets are $20 lawn, $32 to $52 for reserved seating. Call 877-965-3872 or visit wolftrap.org.
---