Stand Back
Even if they're not right out of your dreams, there's much to like about the new albums from Stevie Nicks and J.Lo
Stevie Nicks is back with her first album in 10 years – 30 years after her solo debut. She almost sounds like she never left.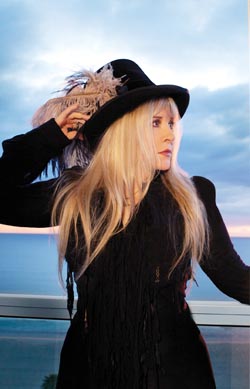 Stevie Nicks
She certainly looks as if she never left, dressed in her trademarked dramatic costuming and floor-length gowns all throughout the liner notes to In Your Dreams.
Even if it's not right out of your dreams, there's much to like about In Your Dreams. Nicks hired Dave Stewart, best known for his work with Annie Lennox in the Eurythmics in the '80s, to lead produce the whole affair. The result is a solid set that any longtime fan will enjoy, especially if they give it time and can accept the toll that time and a hard life takes on a voice.
Nicks, who turns 63 in a couple weeks, owns one of the most recognizable voices in all of pop music: a gritty, growly alto that takes no prisoners, as stark and searing as her image.
But it's not nearly as glorious of a weapon as it once was, first as a member of Fleetwood Mac in the '70s and especially as the hard-edged '80s-era solo star whose unalloyed ferocity gave us indelible hits, from ''Edge of Seventeen'' to ''Stand Back.'' In Your Dreams doesn't even have a song as punchy as 2001's ''Planets of the Universe.''
Instead, most songs are on the softer side – often drawing from country as much as soft-rock. This tender approach results in songs that are perfectly fine, if a little bland and unremarkable. It was clearly a calculated move, because the approach is also less taxing on Nicks's voice, which has suffered not just the ravages of age but also her past addictions to both stimulants and downers.
''For What It's Worth'' is a powerful ballad – more so with each listen – about someone who rescued Nicks from the abyss. In many ways it gains more power by the sheer fact that Nicks is obviously straining her voice hitting the song's many gravelly notes. And that fact is a wee bit depressing: the realization that she's lost firepower on both ends of her vocal register.
There's really only one song out of 13 that could not have been recorded and released in the '80s. And once you get to it, you'll wish for more songs like ''Everybody Loves You.'' Light touches of electronic-pop usher in the song, which stays light, though bittersweet. ''Everybody loves you, but you're so alone,'' Nicks sings, while Stewart offers intriguing harmony. It's not exactly clear why, but Nicks's voice sounds as strong here as anywhere else. It's clearer, more pristine.
As refreshing as it is, even ''Everybody Loves You'' can't leave the past behind. The bridge features an electric guitar solo. It's somewhat restrained, and doesn't come out of the blue, but it is blaring – and blinding – all the same.
Was the '80s a good decade for Nicks – and Stewart – or what?
Jennifer Lopez is only credited as co-writing one song out of 12 on her new album Love? And that song, ''One Love,'' finds her ticking off the loves in her life and pining for ''a real love, something that lasts.'' ''Is there one love? Only once in a lifetime?'' asks the pop star, who famously has been engaged four times. She's been married to singer Marc Anthony for nearly seven years now.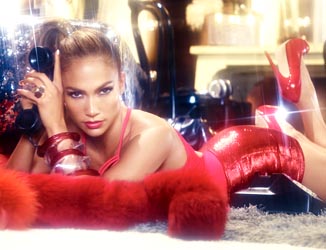 J Lo
(Photo by Warwick Saint)
''Number 4 you sing to me, but I'm not sure,'' Lopez sings. ''So worn out but loved you so. Made me want to try once more, and I couldn't say no.''
I know, I know: Even when they write their own songs, singers – even those as enamored of the public spotlight as J.Lo – aren't always relating stories about their private lives.
Still, this doesn't look good for her relationship with Anthony. And neither do several other tracks on Love?, an album that, as its title suggests, questions the principle of love as much as it affirms it.
But if you keep it on the superficial tip, Love? can be an out-and-out delight. Certainly the music draws you in. For her first album in four years – and of course the first since becoming a judge on American Idol – Lopez pulled out all the stops, hiring the best producers money can buy. Most notably, Lady Gaga's right-hand man RedOne signed on as co-executive producer.
Even Gaga herself co-wrote or co-produced two tracks here. ''Invading My Mind'' is slightly hard but sweet dance-pop straight out of Gaga's playbook, right down to lyrics that turn a disease into something good. ''This feeling is invading my mind. I'm infected tonight, I can't fight it,'' Lopez sings.
Gaga co-wrote final track ''Hypnotico,'' a song especially intoxicating – not the least because it harkens back to J.Lo's appealing 1999 hit ''Waiting for Tonight.'' She shouts an enthusiastic ''tonight'' in the same manner on several occasions.
All together now: ''ah oh oh.''
---