Mixed Blessings
Aretha Franklin's So Damn Happy
Oftentimes it's resilience more than consistency that distinguishes someone as a true diva. Riding the waves of changing music impulses has long dogged Aretha Franklin's checkered recording career, ever since gritty '70s soul gave way to glittery disco, and later rugged hip-hop. As influential as her regal, melismatic hollers are to overwrought disco starlets, she never sounded convincing when she sang underneath the mirror-ball. She rebounded briefly in the early '80s after hooking up with Luther Vandross and Marcus Miller, but came off silly looking when she sported the spiky new wave hairdo, singing with the likes of the Eurhythmics and George Michael. The '90s found her mostly MIA as her solo career was upstaged by her highly-publicized financial and legal tribulations. She did, however, manage to release one noteworthy disc, A Rose is Still a Rose, an uneven flirtation with hip-hop.
Franklin continues to dabble in hip-hop-endowed R&B with So Damn Happy, her first CD in five years. The results are as erratic as her previous endeavor, but some of the new disc's successes come not necessarily from what she does with the street-minded tracks, but from what she doesn't do. There's something to be said about aging gracefully, and at 61, Franklin avoids many of the embarrassing gimmicks artists fall for when trying to stay in step with youth-obsessed genres. She wisely doesn't try to re-invent herself as a circuit party diva a la Cher by enlisting the schlock production of Thunderpuss or Paul Oakenfold, nor does she seek ghetto-fabulousness by crowding herself with guest rappers and inferior songbirds. So Damn Happy allows Franklin to simply reign as the "Queen of Soul " with minimal distraction, and for a good portion it works magnificently.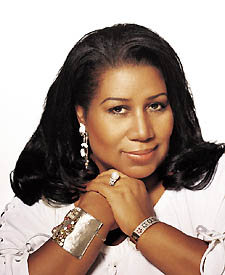 Troy Taylor, in particular, is sympathetic to Franklin's soaring voice, providing her with luxuriant songs that aptly reconcile old-school R&B sensibilities with hip-hop's rhythmic vitality. The bittersweet lead single, "The Only Thing Missin' " with its melancholy acoustic guitar, mid-tempo shuffle, and soulful background vocals recalls the kind of Chicago-soul magic Curtis Mayfield brought her, when he commissioned her to sing his songs from the 1976 movie, Sparkle. The clicking hip-hop beats are never obtrusive yet utterly effective. And Franklin sounds comfortably recharged, punctuating the rather perfunctory lyrics with spirited shouts.
On "Holdin' On " and "No Matter What, " Taylor calls upon the songwriting and vocal arranging talents of Mary J. Blige, who provides Franklin with inspirational themes of self- empowerment that brings out the best of her gospel and blues roots as she imbues Blige's confrontational verses with poignant conviction. Jimmy Jam & Terry Lewis create a similar shimmering marriage between the old and new with the remorseful "Everybody's Somebody's Fool, " a bluesy ode to a nefarious love affair in which Franklin sasses off to her gossipy naysayers with the pointed lines, "Skip the drama, use common sense/You don't have love if you don't have patience. "
Aretha Franklin
So Damn Happy
Arista Records
$18.98
So Damn Happy loses steam midway, though, when the mood shifts to mawkish ballads, a couple of which are sadly produced by Franklin. The self-produced tunes -- "So Damn Happy " and "You Are My Joy " -- are burdened by glossy overproduction and hackneyed songwriting. Norman West brings Franklin back into the church with the gospel-drenched "Good News, " but his syrupy production nearly extinguishes her fiery testimonials. Even her feverish call for R-E-S-P-E-C-T on "Ain't No Way " comes across workmanlike because of its unimaginative arrangement and slick production from Gordon Chambers and Barry Eastmond. Still, Franklin's voice remains a force to reckoned with, even when she's tolling through material less befitting her diva status.
---