Siren's Lament
Cassandra Wilson's new album, Glamoured
After a decade of perfecting her mojo of refurbished blues, jazz, R&B, and contemporary pop, the magic of Cassandra Wilson's music threatens to lose its singular spell. Her lustrous contra-alto is still a thing of rare beauty, but the allure of her rustic eclecticism is falling victim of the law of diminishing returns. What was utterly stirring ten years ago on her breakthrough Blue Light Til Dawn now sounds methodical. 
Last year's Belly of the Sun gave hints that Wilson, perhaps, needs to go into another direction. The CD should have been a milestone, given that she had recorded the sessions in her native state of Mississippi. Instead it resulted in a rather muddle affair that was competent enough, but lacking in direction and oomph. Part of the problem was that Wilson had then begun producing her own sessions rather than enlisting the talents of Craig Street, who helmed both Blue Lights and its superior successor, New Moon Daughter.  Belly of the Sun took cues from Street's atmospheric style with all its forestry textures and silhouette arrangements. Unfortunately under Wilson's supervision, the humid ambience grew hazy, nearly drowning out her sometimes too laconic singing.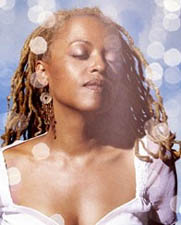 Glamoured pretty much offers her signature rootsy, stripped-down percussion-strings aesthetic, subtly offering new sonic colors, thanks to Gregoire Maret's stinging harmonica. It does however fare better than Belly of the Sun in that Wilson's found a new producer in guitarist Fabrizio Sotti, and also reunites with guitarist and former music director Brandon Ross on a few cuts. There's another reunion of sorts with drummer Terri Lyne Carrington, who played on Wilson's classic, Blue Skies, and who also participated in the early M-Base scene. Sotti, who's as much a hip-hopper as he's a jazz man, helps break the lull of Wilson's languid musing, especially on the refreshingly uptempo, "I Want More, " which is somewhat hampered by the singer's lumbering crooning. But the funky, "What Is It " is a sheer delight that has potential for R&B crossover success.
  Wilson's caressing voice can be so seductive that the lyrics become secondary, which is problematic, considering how carefully she chooses her material. Glamoured demands the undivided attention of a headphones electronica record to fully appreciate the intricate embroidering of Ross and Sotti's guitar lines and more importantly the weighty emotional themes of the music. If you listen to it on a sub-par audio system, you might not even recognize that this is the artist's most personal sounding album yet, as she examines the institute of marriage through bittersweet lenses.
Cassandra Wilson
Glamoured
Blue Note
$17.98
Sequenced almost dead-center are Wilson's rueful makeovers of Luther Ingram's 1972 R&B hit, "If Loving You Is Wrong " and Bob Dylan's "Lay Lady Lay. " These renderings offer two-sided views on the issue of infidelity. On the former, she takes the position of a lovesick mistress, caught up in a nefarious relationship with a married man. With the Dylan tune, Wilson assumes a comforting advisor role, suggesting that she should stick by her man. Sotti's lamenting chords and Wilson's plangent crooning on lines like "Mama and daddy say it's a shame/It's a downright disgrace, " accentuate the scandal, making the other woman appear as if she's wearing the scarlet letter "A " in the smallest, one-horse town ever imagined.
On "What Is It, " Wilson questions whether or not her relationship is on solid ground, hinting suspicion with the pointed verse: "Is she your girl/Or is she your friend/Is she the one that brings our story to an end. " Even Sting's overtly political "Fragile " is transformed into a song, dealing with the emotional violence that's often associated with a collapsing love affair.
Wilson spins tales of unrequited love on "Sleight of Time " on which she yearns for a May-December relationship and effectively plays a jilted lover on an enchanting remake of Willie Nelson's "Crazy. " As bruised as Glamoured is, Wilson does prevent from becoming resoundingly defeating. She sings of the joys of escaping from a rural town on the chugging "On This Train " and even welcomes the exploits of her paramour on Muddy Waters' washboard-driven, "Honey Bee. " But it's her poignant duet with bassist Reginald Veal on Abbey Lincoln's liberating, "Throw it Away " where she appears to have found some resolution.
Don't let the familiar calm air of Glamoured fool you. Underneath it all brews a storm of unforeseen personal revelations.
---