Rent Controlled
New CDs from Dido, Gloria Estefan
Dido ended her entrancing debut album No Angel with the slow-burning, sensory-loaded trance closer "Take My Hand. " "Lie down next to me, look into my eyes and tell me, oh tell me what you're seeing, " she sang. What we were hearing was pop music of exquisite beauty from an enchantress who left us pining for more.
Even if Eminem hadn't featured Dido on his hit "Stan, " about a same-sex star stalker, the multi-platinum-selling No Angel would have slow-burned its way to considerable fame in America. Now her follow-up album, Life for Rent, is a fast-tracked commercial success, debuting in the top five of Billboard's album chart, where it continues to cling to the top ten. It may even earn Dido the Grammy recognition that eluded her the first time out. In fact, in what had to be a calculated move, Dido's sophomore album was released the very last day of eligibility for the 46th Annual Grammy Awards.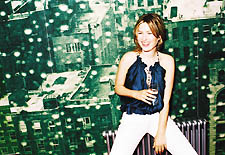 Dido
But the Grammys are not always the arbiter of accomplishment they should be. And artistically, Dido hasn't accomplished much of anything new with Life for Rent, which isn't so much a follow-up as a sequel. Most listeners who found great reward with No Angel will find the same charm all over again here, where sumptuous orchestration wraps around gorgeous melodies and penetrating, melancholic vocals like a safety blanket. First single "White Flag " finds Dido at her aching best. "Stoned " is a mid-tempo stomper, with percussive beats that float like water bubbles up to and all around the surface. And the stunning dub-heavy "Who Makes You Feel " transports you to a certain humid, laidback tropical island just as a hurricane brews out on the horizon.
Dido
Life for Rent
Arista
$18.98
Still, there seemingly can be only two explanations for this album, neither of which is satisfying. One, Dido (or her label) feared charting new territory so soon after her mega-success and staying the course was the only option, perhaps simply assembling an album out of leftovers from the first go-round. Or two, Dido had no new ideas to bring to the effort and was perfectly content to sound the same as before.
Well, nearly the same, but rarely as good or as fresh. And because she doesn't have the passion that fires Annie Lennox's painfully reflective Bare, though, the collective effect on the listener is one of…adult contemporary boredom.
Odds are good that Dido will rack up several Grammy nominations, to be announced the first week of December. But from out of nowhere comes Gloria Estefan, who has produced a surprisingly strong album, one that seems destined for Grammy recognition. After all, Estefan, like Steely Dan and any number of artists before her, has been overlooked for decades by the Grammys for her English-language work.
Gloria Estefan
Unwrapped
Epic
$18.98
This time out even she acknowledges a change. She says that she hadn't yet made a defining English album, one that describes her as the Miami-based American musician that she is. So she set out to work with a crew of noted Latin American musicians, many of them Colombian, the point of origin for much of the best in Latin music at the moment. Finally, she's done in English what she's always done in Spanish -- seduce the listener despite her limited vocal range, on account of her smart, wide-ranging musicality.
Actually, she's outdone any previous effort, in English or Spanish, with Unwrapped. For the first time, Estefan has written the lyrics to every song and anchored her music more in mid-tempo organic rock stylings than in uptempo programmed pop. She samples from Puerto Rican reggaeton, Colombian cumbia and Peruvian folk music, among other influences, to create her most consistent album to date. It's Estefan at her glorious best.
Her first single, "Wrapped, " is also her strongest, with its frequent tempo shifts and key changes, and sensational lyrics: "I carry your joy in my footsteps/Making my way to your harbor/Don't need to go any farther/You are my sun and my moon. "
There are moments on the album where Estefan reverts to her old practice of over-heating her thin, nasal-tinged voice. But it's so refreshing to hear her in peak form everywhere else on the album you quickly forget those off moments. If ever there were an album deserving of both a Grammy and your stereo, Unwrapped is the one.
---