Rapp Star
Anthony Rapp, one of the first openly gay leading men on Broadway, is still mining his ''Rent'' success
''When I do events or concerts, most of the fans that stay afterwards are female,'' says Anthony Rapp. ''It's not like it's a secret.''
Nope, it's no secret at all -- Anthony Rapp has been out since before Rent – approximately two decades now. For much of that time, he was nearly alone as an openly gay leading man, on Broadway or anywhere – this was before an openly gay Neil Patrick Harris, or an openly gay Sean Hayes. Not to mention openly gay Ricky Martin.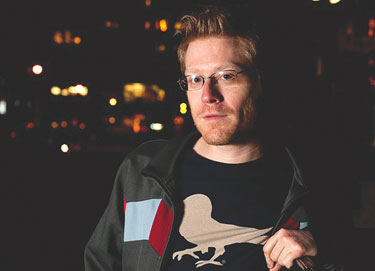 Anthony Rapp
''I'm just encouraged by the fact that more and more people are taking that leap [and coming out],'' he says. ''There's so little downside it seems to me anymore.'' In no small measure, the fact that Rapp still has what you might call female groupies he considers testament to the fact that, ''If you have fans, people who support your work will follow you no matter what.''
Rapp, who grew up in suburban Chicago with his older brother, the filmmaker Adam Rapp, got started in acting early. He starred in small roles as a teenager on Broadway (Six Degrees of Separation) and on film (Adventures In Babysitting). But immediately prior to his Rent tryout in 1994, Rapp was struggling to make ends meet, working at a New York Starbucks.
''I had no idea [Rent] could have potentially mainstream success,'' Rapp says about when he first started working on the show. ''Looking back, it makes some sense that it became such a mainstream hit. There was a vacuum for that kind of material, that kind of experience, on Broadway.
''But it was just sort of out of the blue,'' he continues. ''I never had any idea of what would come, that it would absolutely transform my life.''
Rapp essentially has paid the mortgage a couple times over thanks to Rent, a show he's continued to mine: After the original Broadway run, Rapp reprised the role of Mark Cohen for the original 1998 London production of the show, and then again for the 2005 film. Rapp and Adam Pascal, the original Roger Davis, Cohen's roommate, later returned to the fold for a couple months near the end of the original Broadway run, the ninth longest in Broadway history. The two then set out on a national tour of the show in 2009.
Rapp expects to direct future productions of the show, as he did a few years ago in South Africa. And he continues to perform songs from the show and talk about his experiences especially at universities. But he doesn't expect to star in the show again.
''It's very much a part of my life,'' he says, ''but in terms of performing Mark Cohen, I think that that chapter has closed.''
Rapp is currently gearing up to play Andy Warhol in the musical Pop! in Warhol's hometown of Pittsburgh. He says the producers have continued to tweak the show since the show's successful, Helen Hayes-nominated run at Studio Theatre last summer. He's also preparing to tour the U.K. with his one-man show based on his 2006 book, Without You: A Memoir of Love, Loss and the Musical Rent.
But Rapp continues to work with Pascal. The two will stop for a joint concert at the Birchmere this Sunday, April 15, where they'll perform selections from Rent together, but first each will perform separately – Pascal will sing new arrangements of showtunes plus original songs and play the upright electric bass while accompanied by a pianist and drummer. Rapp, meanwhile, will sing original songs, backed by a traditional rock ensemble, plus offer his covers of new-wave pop and rock tunes by influential artists including the Talking Heads, Crowded House and Radiohead.
''Growing up I listened to more show tunes stuff because I was doing those shows,'' he says, ''but when I hit my early teens I really started to fall in love with new-wave British pop.''
Rapp will perform a cover of ''Losing My Religion,'' the R.E.M. song that he actually used for his Rent audition. ''I think I sing it better now than I did then,'' he says. ''When you live with material over time, you just get a little more – the levels of interpretation get deeper somehow.''
Anthony Rapp performs with Adam Pascal Sunday, April 15, at 7:30 p.m. at the Birchmere, 3701 Mount Vernon Ave., Alexandria. Tickets are $39.50. Call 703-549-7500 or visit birchmere.com.
---