Broadway Rock
Gavin Creel's stunning new album offers far more than just sweet, syrupy, show-tune-style songs
Gavin Creel is a two-time Tony-nominated actor (Hair, Thoroughly Modern Millie), who's currently gearing up to star in the national tour of The Book of Mormon.
But if you expect only sweet, syrupy, show-tune-style songs on Creel's new album, you're in for a rude awakening.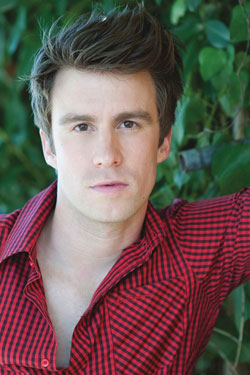 Gavin Creel
The stunning Get Out opens with a bristling guitar riff and Creel singing in a dry, menacing tone. ''If I gave you the sun, would you bathe in it baby?'' Creel croons at the launch of ''Enough.'' ''If I gave you the sun, would you burn all day long? I'm amazed and undone, by the way you say maybe. I gave you the sun so what the eff is wrong?''
Creel proceeds to offer the stars, the moon and the sea – but it's not enough for his paramour.
So Creel says enough. ''Enough, enough, enough, enough – had enough of not getting your love,'' he sings on this captivating electro-tipped gem, which displays Creel's dazzling full vocal range and power, not to mention his impressive pop aptitude. In an alternate universe, ''Enough'' would be a No. 1 pop hit, with constant radio replay. In this universe, it's one of the best kick-off songs to an album I've heard in a long while – I just can't get enough.
That rocker is immediately followed by the title track, which turns out to be a perfect follow-up. ''Leave me alone, you got what you wanted,'' Creel shouts a cappella to start ''Get Out.'' A guitar, keyboard, drum and a few special effects build to support Creel's plea, but this melodious kiss-off is ultimately much sparer in sound than it could have been – and all the more effective because of it. ''What are you still doing here?'' Creel asks in the song's bridge. ''I thought I asked you to leave.'' He then channels the best of Adam Lambert to cry, ''Why are you doing this to me?''
Aside from a siren-propelled power ballad ''U Can't Ignore Me'' – a protest song from a gay American, displaying Creel's gay activist jones – the rest of Get Out is sweeter, and closer to what you'd expect from an eager-to-please Broadway belter. There is much theater know-how on display here, particularly the values of pacing and modulation, keys to drawing and especially keeping one's attention. But this is a pop album through and through, with tunes straddling the divides with folk and rock – from the Indigo Girls-esque tender rocker ''Sooner or Later'' to the karma-informed rock anthem ''Beautiful or Wrong.'' And instead of an ode to, say, Patti LuPone, for example, Creel offers thanks to ''Whitney Houston'' for helping him get through his childhood in ''Nowhereville, Ohio.'' It's a slightly too cute but thoroughly clever, giddy song written before the pop legend's death, but even more resonant because of it.
Gavin Creel
Get Out
Gavin Creel
$8.98




1/2
Anyway, forget what Simon (Cowell) says: Theater stars can do pop. And Creel is living proof.
Just as perfectly as it began, Get Out ends with the yearning ''Come Alive,'' in which Creel effectively calls on a crowd to rise to its feet.
He deserves a standing ovation.
Download These: ''Enough,'' ''Whitney Houston,'' ''Come Alive''
---