Black Bluegrass
Carolina Chocolate Drops drum up interest in little-known genre
The black string music tradition predates the blues. It even influenced and echoes what is today commonly known as traditional folk and bluegrass.
But don't worry if you haven't heard of it. Even one of today's most popular practitioners of what you might call black bluegrass only discovered it less than a decade ago. And to think Rhiannon Giddens's family is from the same town in North Carolina where one of the genre's greatest fiddlers lived.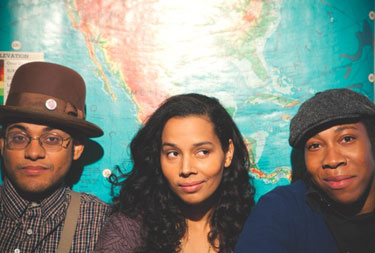 Carolina Chocolate Drops
''It just goes to show how underground it's been,'' Giddens says. ''Now it's definitely getting a bigger profile, and that's really great.''
Giddens is leading that charge as the lead singer and multi-instrumentalist of the Carolina Chocolate Drops. Formed in 2005, the jam band won a Grammy for its brilliant 2010 set Genuine Negro Jig -- in the Traditional Folk Album category. The band works to entice more people to the genre by performing in schools and finding other ways to drum up interest especially in the African-American community. Genuine Negro Jig, for example, even included a dazzling cover of Blu Cantrell's bawdy 2001 hip-hop hit ''Hit 'Em Up Style (Oops!).''
''I'm so happy we did that song, and we do it every night at shows,'' says Giddens, while noting, ''we're not a big cover band. We don't want to be known for our hip-hop covers, as a string band.'' The band's new album, Leaving Eden, doesn't include any hip-hop covers, though it does feature beatboxer Adam Matta. It also offers a song that Giddens says ''could be an anthem for the lesbian community.'' ''No Man's Mama'' is a women's empowerment tune originally performed by jazz singer Ethel Waters.
Giddens, who lives in Greensboro, N.C., studied opera at Oberlin Conservatory in Ohio. She still occasionally sings with opera companies and festivals. ''I love the music [of opera],'' she says, ''it's just not something that I wanted to do all the time.''
Performing with the Drops, Giddens opened for Bob Dylan on tour last year and currently has a song on the Hunger Games soundtrack.
''We are seeing more and more African Americans and all sorts of different colors of people out there,'' says Giddens. ''We play for whoever wants to come to our shows.'' '
The Carolina Chocolate Drops perform Thursday, May 10, at 7:30 p.m. The Birchmere, 3701 Mount Vernon Ave., Alexandria. Tickets are $25. Call 703-549-7500 or visit birchmere.com.
---