The Best and Worst Music of 2012
The best albums of the year featured men singing, at least occasionally, in their upper-most register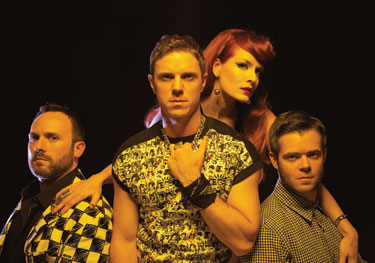 Scissor Sisters
(Photo by Neil Krug)
The year 2012 goes down as a sad one, the year we lost both Donna Summer and Whitney Houston. It just so happens, a month before Houston overdosed, Gavin Creel – on his great, short set Get Out – sang a sweet tribute to Houston, crediting her with inspiring him to pursue his showbiz dreams. Subsequently, two more gay artists, Aiden James and Matt Alber, offered acoustic takes on Houston's ''I Wanna Dance with Somebody.''
Of course, it wasn't all sad in 2012. In fact, musically speaking, it was a happy one. Among other developments, it was the year of falsetto: Over half of what I consider the best albums of the year featured men singing, at least occasionally, in their upper-most register.
There were also, count them, three new swoon-worthy female artists from the U.K. – Emeli Sande, Paloma Faith and Lianne La Havas. As great as all three albums were, though, there were 10 others just slightly better.
The Best
1. Magic Hour, Scissor Sisters -- Maybe you tired of the gay song of summer ''Let's Have A Kiki,'' but even if you never want to hear that novelty song again, you didn't want to see the group break up – or go on ''indefinite hiatus.'' But at least with this altogether accomplished set, blending hip hop, house and pining '70s-era rock, you can say they went out with a bang.
2. The Origin of Love, MIKA -- Mika came out upon release of his new album, and the resulting music is lighter and more direct than his first two go-rounds. The Origin of Love, confident, audacious and on par with the best of the current crop of pop, also proved Mika is one of today's savviest songsmiths.
3. Trouble With This, Aiden James -- Aside from Frank Ocean, my favorite gay discovery of 2012 was this sensitive, Imogen Heap-inspired electro-folk singer/songwriter from Philadelphia. Trouble With This stood out for the relatively subtle, clever touches James took to punctuate his messages, hidden sounds and flourishes worth the fun in discovery.
4. 4th Street Feeling, Melissa Etheridge -- On 4th Street Feeling, the reigning lesbian rock queen dispensed with her past couple sets' yawning, yearning sentiments and schmaltzy power ballads, and in their stead offered passion, sexuality and intensity – some of the rocking-est tunes of her career.
5. Colours, Graffiti6 -- British singer Jamie Scott masterfully sequenced his band's exceedingly confident debut Colours to follow the emotional arc of someone struggling to rebound from a breakup, from shock to regret to resolve. Still better is the blend of old-school soul with new-school down-tempo electronica: Marvin Gaye meets Air.
6. channel ORANGE, Frank Ocean -- Maybe you initially thought Frank Ocean's coy coming out was just a marketing ploy, but then his often poetic and touching debut album was every bit as coy and confusing -- confusingly good. Even many months later it's still hard to get a handle on the atmospheric R&B singer/rapper – and the mystery is a key part of the appeal.
7. The Truth About Love, Pink -- Pink proved herself to be as much of a gay man as a woman with her spunky attitude and disposition, tramp-stamped all over The Truth About Love. The set offered pithy, even filthy observations about love and sex, all over the most charming cartoonish pop/rock imaginable.
8. Adventures In Your Own Backyard, Patrick Watson -- A trumpet heralds the news at several turns on the latest and greatest set from Patrick Watson, a Montreal chamber-rock quartet led by its namesake vocalist, a classically trained, one-time film scorer. The band's often-grand rock repeatedly stuns you with its unpredictable, wide-ranging cinematic scope.
9. Amanda Palmer Theatre Is Evil -- ''I'm not the killing type,'' Amanda Palmer sang on this album's hard-charging first single, ''but I'd kill to make you feel.'' The bisexual cabaret-punk singer-songwriter makes sure a listener feels too, with irresistibly melodic, smart and spunky music that rewards and sustains your attention in a way that Lady Gaga only wishes her shock-and-awe approach did.
10. Bear Creek, Brandi Carlile -- The twins Phil and Tim Hanseroth write, sing and play with lesbian frontwoman Carlile, whose new album offers an exquisitely arranged country-rock blend, with additional influence from gospel and folk -- think Indigo Girls blended with Johnny Cash. And all the while there's Carlile's eminently captivating voice, supple and expressive, not too dissimilar from Sia's. I just can't get enough.
The Worst
1. Elysium, Pet Shop Boys -- Neil Tennant and Chris Lowe sounded almost totally out of ideas on the joyless Elysium, on which no track stood strong all its own, much less anywhere near the heights of the duo's pioneering post-disco pop classics. Sadly, none of these will ever always be on your mind.
2. Warrior, Ke$ha -- A couple reputable music critics who know better have now joined the herd in swooning over this annoying pop star. But I just can't stomach Ke$ha's gnat-like voice – or is she a Chipmunk? – and imbecilic lyrics. She's adopted the metaphor of battle with her new set, seemingly declaring war on pop music and the betterment of society. We have seen the enemy, people…
3. Global Warming, Pitbull -- I initially thought the Miami rapper's shtick was fun. I'm off that now. Pitbull didn't break a sweat writing these tunes – mostly just refashioned samples of past hits, and raps that are variations on his tired single-minded theme of narcissistic, promiscuous partying. Don't you know there's a larger world out there, Mr. Worldwide? Dale!
4. Unapologetic, Rihanna -- Rihanna listened to Skrillex and allowed his viral strain of dubstep to infect her music, resulting in a serious misstep of an album. It's as bitter and brittle as they come, and featured a duet with the man, Chris Brown, who almost killed her a few years ago and has shown little public remorse or reform. Some things demand an apology.
5. MDNA, Madonna -- As a package MDNA was remarkably immature and spastic, and made the female pop standard-bearer sound utterly desperate in trying to one up, much less keep up with, her pop progeny. And it's just hard to cheer on that.
Favorite Songs
''212'' by Azealia Banks
''I Love It'' by Icona Pop
''Into Giants'' by Patrick Watson
''Troubleman'' by Electric Guest
''Forget'' by Lianne La Havas
---