Flush with Cash
Rosanne Cash revisits her country roots with her latest album
"I wrote a song about a gay couple," says Rosanne Cash. "It's called 'Jim and George.'" The song was a donation to the gay Church of St. Luke in the Fields, with all proceeds from its sales benefiting the Greenwich Village parish's LGBT and HIV/AIDS outreach programs. On the church's website, Cash notes, "Love is Love, and love doesn't contain itself within arbitrary borders of gender, orientation, race, nationality, creed or age."
Indeed, the 58-year-old star has an extremely positive outlook toward gay and lesbian rights and the role of the straight world in helping to advance those. "You know who John Stuart Mill was?" she asks. "He was one of the only 19th century men who stood up for women's rights, who thought that women should vote. He was vocal about it, and he was ridiculed and abused for it, yet he didn't stop. I've always thought that straight people were morally bound to do that for gay and lesbians and for their rights. ... I think it's necessary."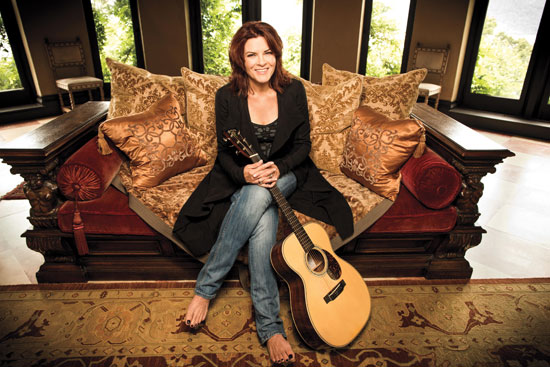 Roseanne Cash
(Photo by Clay Patrick McBride)
The eldest daughter of country music legend Johnny Cash, the singer has carved her own path to fame. With her deep, velvet-lined voice and songs and arrangements that very nearly instantly hook you, Cash is one of those artists who is infinitely and repeatedly listenable. Her latest album, The River and the Thread, combines roots-oriented music with her trademarked lushness. It's a rich, beautiful, soulful collection of songs, none of which take a wrong turn.
Cash explains that the new album is meant to convey "the theme of Southern place and time." It was produced by her husband and frequent collaborator John Leventhal. "Somebody said that this record was the sound of a true marriage," she says. "And that really touched me deeply. John and I worked a long time to get to a place where the sum is greater than the parts." Cash attributes the success of her 20-year marriage to Leventhal in part to not playing the blame game.
"I find blame to be really damaging," she says. "It's so easy to put all your shit out onto another person and say it's all their fault. And it's so hard to own the things in ourselves that are ugly and uncomfortable. So withdrawing the blame is really helpful. And if you have any opportunities to see the real essence of that person, that can soften your heart and help you forgive anything. I'm so lucky I get to work with my husband and see him play music, because that's his real essence. It just washes everything else away." '
WPAS presents Roseanne Cash on Friday, Feb. 14, at 8 p.m., at GWU's Lisner Auditorium, 730 21st St. NW. For tickets, $35 to $55, call 202-994-6800 or visit lisner.gwu.edu. Download "Jim and George" at stlukeinthefields.org/rosanne
---