Taking Flight
'Die Walkure' offers some of the finest singing, acting and mythic story-telling you are likely to see in any genre
This is a drop everything moment. If you live for opera, if you occasionally go, if you have even a fledgling interest in it, you must fight tooth and nail for tickets to the nearly sold out Die Walkure. Yes, it is four hours and forty-five minutes long with a couple of leg-stretchers, but the time will fly like a Valkyrie on the wind. Prepare to be utterly amazed. This is some of the finest singing, acting and mythic story-telling you are likely to see in any genre.
In 2005, the Washington National Opera began staging Wagner's entire Ring cycle starting with Das Rheingold. Unfortunately, Rheingold was an uneven production which sagged under the weight of director Francesca Zambello's need to re-interpret the Cycle (which is based on Norse myth) as an American story through the ages. It was a disappointment, especially following as it did Zambello's 2003 magical rendering of Die Walkure (when the WNO was temporarily housed in Constitution Hall) which brought down the house.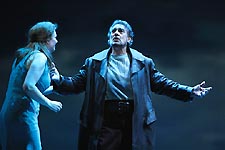 Corporate Wagner: Held and Domingo
(Photo by Photo Credit: Karin Cooper)
Thus one feared Zambello's ''new'' staging of Die Walkure, now seen in its proper order in the cycle, might go either way. Luckily for us, Zambello's amazing directorial talents land right on target. Although she has not dropped her commitment to ''Americanizing'' the Ring, she has kept her focus on the very core of the opera and the results are incredible. This is a supremely cohesive operatic and theatrical experience, a tremendously absorbing ride in which we thrill to Wagner's brilliant, evocative score while realizing just how relevant the work is to modern audiences. Not because it has been made American, but because of the beauty in the way the themes are explored.
The stellar cast from the 2003 production returns with Placido Domingo again in the role of ill-fated mortal, Siegmund. It is, as always, a privilege to listen to this Wagnerian master as he weaves his voice through the music. Domingo brings wondrous subtleties to his singing; every note is delivered with a perfect mixture of musicality and emotion. Anja Kampe returns as Sieglinde, his long-lost sister and sudden bride (well, that's ancient Norse legend for you), and her voice is even better than in the earlier production. She is extraordinary, capable of delivering gorgeous sound over a full orchestra and yet never at the cost of her amazing control. She is an affecting actor, quietly embodying her beleaguered mortal without needless hand-wringing.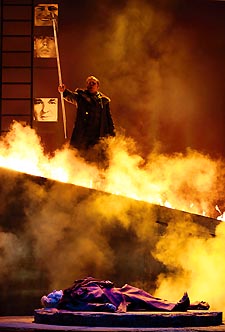 Alan Held again sings Wotan, the god with a profound interest in Siegmund's fate. Zambello has him this time as a high-powered CEO, his office literally at the top of the world; perhaps a little cute but still palatable. But when his wife Fricka arrives like a pissed-off Washington doyen and berates him, the dramatic tension suffers somewhat. Sure the audience titters, but at what cost? Still bass-baritone Held doesn't give in to parody and goes on to sing powerfully, especially in his scenes with his beloved daughter, Brunnhilde. Elena Zaremba returns as Fricka (sharing the role with Elizabeth Bishop) and she delivers her velvety mezzo-soprano with aplomb despite the silly middle-aged couture costume.
Linda Watson is once again Wotan's favorite Valkyrie, Brunnhilde, bringing much more command to the role than she did in 2003. She delivers a quite rousing ''Ho-Jo-To-Ho'' battle cry, but it is still hard not compare her to Kampe who has such appropriate Wagnerian power. Watson's characterization of Brunnhilde, who falls into terrible conflict with her beloved but still omniscient father, is very good. She moves and emotes with the exact gender-less grace you would expect. Her Valkyrie sisters are excellent when their voices rise in chorus. Conductor Heinze Fricke pulls the very, very best from the WNO orchestra.
Die Walkure






Kennedy Center
Opera House
202-295-2400

Finally, mention must be made of another of Zambello's choices. After Siegmund's death in battle, actors dressed in U.S. uniform walk across the stage holding photographs of U.S. soldiers killed in various American conflicts, including Iraq. Later, when Wotan sends his Valkyries down to gather mortal heroes from Earth's battlefields, the Valkyries are conceived as American paratroopers and projections of U.S. warplanes ''fly'' across the stage. The Valkyries again use real photographs to represent the heroes they have gathered. Both of these scenes contain some of the most musically, emotionally and visually evocative moments of the evening. This is music that brings to mind both Hitler, who loved Wagner, and the anti-war film Apocalypse, Now, in which the music accompanies a scene of American military dominance, and so Zambello, in her reference to Iraq, tinkers with two very powerful associations. It is controversial and may not stand the test of time, but leaving all that aside, perhaps there are few better ways to honor American war-dead than with some of the most beautiful music ever written.
---