Sunny Side Up
Based on the 1996 film, 'The Spitfire Grill' is an enjoyable evening of casual melodies and scrupulous storytelling
Nestled among the woods of Gilead, Wisc. rests the Spitfire Grill, a cozy little nook where the owner always knows where you want to sit and how you prefer your eggs. It's a tiny little town where tiny little minds scheme up the kind of rumors that thrive in tiny little diners. And it's just the kind of place where ex-prisoners would never think to move, since blending in to small town society is equivalent to a moose hiding out in a hospital.
Yet that is exactly where parolee Percy Talbot escapes to find the autumn leaves near Copper Creek. When her parole officer suggests helping out in the kitchen at the Spitfire, it's up to the diner's hardhearted Hannah to let Percy in on more than her home-cooked recipes. But before Percy can learn her way around the crockpots and griddles, she learns that the restaurant has been on the market for nearly 10 years. With help from Hannah's niece Shelby, Percy dreams up a national essay contest for ownership of the Spitfire Grill. When the money starts rolling in and the town's enterprising spirit comes alive, secrets are revealed in the tiny community where reputation and honor is everything. It seems that Percy isn't the only one protecting a bitterly shaded past.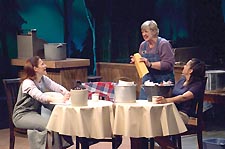 Based on the 1996 film by Lee David Zlotoff, The Spitfire Grill sells its efficient, life-affirming story through an immensely formulaic and predictable plot. Writers James Valcq and Fred Alley bought the rights to the film in 1999, and adapted the screenplay into a folksy musical version brimming with soft country ballads and a score that sings to the heart of American dreams.
It's rather tame material for the Theater Alliance, which departs from its usually provocative and nuanced fare. Tenderly directed by Paul-Douglas Michnewicz, The Spitfire Grill is, at best, an enjoyable evening of casual melodies and scrupulous storytelling. Though it often veers into overly-optimistic, unrealistic territory, its twenty-three musical numbers are delivered by a nice variety of voices offering a sophisticated range of dynamics.
Led by musical director Jeffery Watson, the cast demonstrates an impressive mastery of control and conviction for such a comfortable score. Accompanied by Doug Poplin on cello and Steve Smith on the guitar and mandolin, Watson's trio adds a magical touch to the proceedings. No one is more comfortable with such rustic music than Toni Rae Brotons, whose warm tones lend Percy Talbot the gift of realism and heart. She and Joanne Schmoll -- whose lovely, birdlike soprano is true to the sheepish Shelby -- blend rich harmonies in the duet "The Colors of Paradise, " while "Shoot the Moon " closes the first act on a high note.
THE SPITFIRE GRILL
To April 10
Theater Alliance
H Street Playhouse
1365 H Street NE
$25-$30
1-800-497-8497
theateralliance.com

Brotons is the perfect centerpiece in the lead role, and she is joined by Rebecca Herron as postmistress Effie, the nosy "town crier " whose self-righteous attitude is evident in Herron's stiff overhead braid and haughty pout, and J. McAndrew Breen as the lonely parole officer longing to leave his quiet hometown. Rob McQuay's booming baritone fills the stage with a well-rounded heft, while the reliably sturdy vocals of Judy Simmons command the muscular role originated on screen by Ellen Burstyn. Simmons is vital to The Spitfire Grill in the same way Burstyn was vital to the film, driving her role with willful force. Michnewicz must have realized that without a strong Hannah, the Grill might as well have closed down some time ago.
As always, Theater Alliance's strong aesthetic transforms the intimate H Street space into another world of spruce trees and pine. The innovative, woodsy set designed by Thomas F. Donahue provides plenty of roaming space, and Klyph Stanford's resourceful lighting gives each scene a renewed sense of time and place.
-30-
---