Follicle Follies
'Hairspray' is two and a half hours of nonstop fun, while the most engaging part of Scena's 'The Persians' is the scenery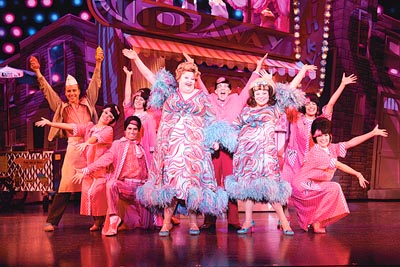 Big Fun, Hon: The cast of Hairspray
If big, bright, near-burlesque, singing, dancing, toe-tapping, knee-slapping, hair-hopping, infectiously giddy Broadway musicals aren't your thing, then steer clear of the Kennedy Center, hon. For everyone else, there's Hairspray.
Very little of Baltimore cult auteur John Waters is present in the slap-happy musical spawned from his 1988 film of the same name. In fact, the flashy 2002 mega-musical, directed by Jack O'Brien, lacks any characteristic Waters raunch. It's 1962 Baltimore, and though they're ''The Nicest (Sugar 'n' Spicest!) Kids in Town,'' the prim teenagers dancing on The Corny Collins Show have no tolerance for any kids who don't dress and act exactly like them. Enter Tracy Turnblad, a powerhouse dancer who learns to battle more than just her bulge to win a spot on the popular show. Not only is Tracy too large for a series not filmed in Cinemascope, but dad Wilbur owns the Har De Har Hut across town while mom Edna runs her own in-house laundry service. She ain't exactly a card-clutching member of Baltimore's Finest.
But there's a potent storm of controversy brewing, and Hairspray not only abolishes stereotypes of obesity and gender, but also illuminates the history of racial integration in 1960s Maryland. When Tracy insists that every day be ''Negro Day'' on air, she sparks off a civil rights movement in her own backyard. It's up to the Turnblads to turn Baltimore around -- but can Tracy save the day and steal Link Larkin, the heartthrob of her dreams?
It's the role of a lifetime for talented plus-sized chicks everywhere, and Keala Settle proves to be more than worthy of the title of Tracy, ''that chubby Communist girl'' with a heart of gold. Settle is a more mature singer and an infinitely better dancer than the Tony-winning Marissa Jaret Winokur, and she is a non-stop ball of energy on stage, particularly during the clever solo number ''I Can Hear the Bells.'' The tour retains the original Broadway choreography by Jerry Mitchell, and by the time the show climaxes with the inexhaustible ''You Can't Stop the Beat,'' it's a wonder anyone in heels can still move, let alone belt out its feverish finale. But belt they do, and Settle is joined by a tireless cast working hard all night long to keep your blood pumping and your smile muscles aching.
Highlights in the cast include Charlotte Crossley's Motormouth Maybelle and Chandra Lee Schwartz as Penny Pingleton, Tracy's mousy best friend who falls in forbidden love with a black boy named Seaweed. Schwartz is a hoot as she churns out Marc Shaiman and Scott Wittman's riotous lyrics, ''In my ivory tower/Life was just a Hostess snack/But now I've tasted chocolate/And I'm never going back!'' Stephen DeRosa also adds his own quirky touch to Wilbur, the patriarch still in love with his queen-sized spouse.
Wife Edna is reincarnated by stand-up king John Pinette, who is afflicted with a nasally ''Joisey'' dialect (apparently Pinette was never schooled in language of the ''Bawdehmour'' variety). While his Edna lays canyons away from the heartfelt mother crystallized on stage by Harvey Fierstein, Pinette also lacks the sweet and simple ingenuity to make Edna truly human. Susan Henley's Velma Von Tussle isn't quite vocally up to the task as she relays the Legend of Miss Baltimore Crabs, and Serge Kushnier's Link is devoid of the crooner's requisite charisma and charm.
From insider Gypsy jokes to the hip-swaying tunes ''Mama, I'm a Big Girl Now'' and ''Welcome to the '60s,'' Hairspray is two and a half hours of infinitely watchable, nonstop fun fun fun.
When I was a child, I loved soap operas -- all of that histrionic nostril flaring and vicious glaring at the camera was a delectable escape for me every day, sitting in front of the television with my grandmother as she would vehemently declare, ''That louse!'' to every scoundrel who dared to cheat on her beloved Erica Kane. It wasn't until roughly the age of 6 that I began to realize how oddly unrealistic and wholly dysfunctional the characters and situations are in those one-hour, commercial-driven episodes. How utterly disappointing that was.
Now that I'm a little bit older -- and I like to think perhaps a little bit wiser -- I've moved on to stage drama, which I also tend to think is a little bit different than the contrived, melodramatic affairs of Pine Valley that linger on past the boundaries of good, old-fashioned common sense. There's an exception, of course, and it's Scena Theatre's The Persians.
In one bitterly confused evening, Scena turns The Persians into a grueling exercise in patience and perseverance, presenting a nearly two-hour, intermissionless adaptation that struggles to convince us how Aeschylus' ancient war story is a still relevant and timely affair. The painfully stoic and emotionally desiccated production features acting that narrowly mimics the intimate sagas regaled each and every afternoon on network television.
Touted as ''the first surviving play in the history of Western drama,'' The Persians is the preserved Aeschylean account of the losing side of war, the view from the lens of the underdogs. Here director Robert McNamara chucks the original text for a slow, inferior adaptation by Robert Auletta, conjuring up a visual melting pot of Greek mechanics and barely recognizable references to the first Gulf War.
It's intended to illuminate America as the warmonger country of greedy bucks-loving ignoble oil chumps that it is, but instead, it's a strange, fanciful script filled with sophomoric analogies and pithy vernacular. There isn't a lot of action of which to speak -- all these characters seem to do is talk, talk, talk. From an overstaged chorus of talking heads to endless monologues that move in circles, Auletta's version moves The Persians to modern Iraq, but doesn't move them much farther beyond mere geography.
It seems that all isn't fair in love and war, after all. Queen Atossa keeps busy by lamenting her dead husband and her bad dreams in the city courts, while war-hungry son Xerxes who has gone off to fight in a fierce battle. Not much happens until Atossa summons her King Darius back from the great beyond to share tragic news she learned from a bruised and bloody soldier who fought on the front line. But Darius can't be bothered, really, and just when you can't imagine things getting any worse, in pops Xerxes, hiding out from the opposition and delivering all sorts of authoritarian ideology on politics and prose.
You know you have a problem when the most engaging part of a play is its scenery. McNamara's atmosphere and technical design is far more interesting than the actors filling the stage, and the strength of Scena's production lies in Michael Kachman's impressive artistry. His highly stylized set features somber lighting from Marianne Meadows, while David Crandall provides a delicate, melancholy soundscape.
As Xerxes, David Bryan Jackson goes overboard with a frenzied, grossly satirical performance matched only by Kerry Waters' Atossa, who seems ripe for an afternoon of heavy make-up and a rolling TelePrompTer. Aside from the supremely noticeable lack of age-appropriate casting (Jackson is older than Waters, who is supposed to be his mother), McNamara's biggest misstep is that his chorus is stuck with a bout of uncomfortable cardboard choreography.
You can't change the channel and there are no commercial breaks to relieve you from Scena's dry, sober adaptation and its patently bad portrayals, but at least you don't have to tune in another day to find out who the real nemesis is: a blinding spotlight on the American flag leaves little room for speculation.
---