Back to the Future
'The Violet Hour' bears the weight of expectations, while 'Guantanmo' is an emotionally powerful work of docu-theater
The expectations are as high as a towering Manhattan skyscraper. After such successful local productions of Take Me Out and The Dazzle, the area premiere of Richard Greenberg's The Violet Hour is poised with all of the promise and potential that its very title implies. ''It's that time -- that wonderful New York hour when the evening's about to reward you for the day -- that violet light you walk between that hastens you places'' that Greenberg invokes, and in his Jazz Age survey of things that have been and things that are to come, there are plenty of hazy rewards both on and off the clock.
Most of Greenberg's shimmering wit and piercing insight is thoughtfully conveyed in Rep Stage's quirky production, a playful, animated jaunt directed by Kasi Campbell and highlighting the comic arts of Bruce Nelson. Even when Greenberg fails to produce adequate resolution with an abrupt, quick-fix finale, Campbell's company is still game enough for the ride.
It's the stuff of incorrigible romantics, borrowing its namesake from T.S. Eliot's 1922 poem The Waste Land and inspired by a passel of charismatic personalities from the early 20th century. There are nods to F. Scott and Zelda Fitzgerald, Thomas Wolfe, Maxwell Perkins, even Dorothy Parker. Yet The Violet Hour maintains its own sense of identity with a kooky story centered around one John Pace Seavering, an Ivy League bookworm struggling to decide which novel he should publish first. Best friend Denny has penned a sprawling epic that lines multiple crates, while the publisher's secret lover is a celebrated jazz diva anxious to share her juicy memoirs with the world. Seavering has hired a brainy, zany assistant who answers to the name of Gidger to help him with his first professional endeavor, but with only enough financial backing to publish one book, he alone must make the final selection.
We've all felt the same, slow panic of becoming paralyzed by indecision, uncertain of the outcome of our choices and fearful of their consequences. But on April 1, 1919, an eager young publisher felt drenched in opportunity and optimism. There was no knowledge yet of other wars to come, no dread of looming stock market crashes or international crises and economic failures. His world was floating high on the syncopation of a jazz riff, certain of its hope and aiming for brighter horizons.
Enter a strange form of deus ex machina -- this time a literal office appliance -- spewing out prodigious pages of literature from the future, forecasting events that shatter all of Seavering's neatly designed destiny. As with most of Greenberg's scripts, his time-trekking tale is perforated with subtexts of race and gender, class and sexuality, and as Gidger and Seavering read through their histories in a distorted sort of omniscient novel, Seavering realizes the weight of his dilemma and its effect on the fate of those around him.
''To be gay is to be lighthearted in the face of every kind of darkness. To insist on one's own happiness when God or the forces of chaos rally to oppose. To fill a void. To make that void a niche,'' waxes Gidger, after reading about the new definition of ''gay'' later in the century. And in the hyperkinetic hands of Bruce Nelson, Gidger's high-strung, niminy-piminy rhetoric is met with equal parts substance and sass. Nelson offers a delectable performance to relish as he prances into the room declaring, ''Oh, my God! We are never again eating red meat!''
That flair for the dramatic is equally matched by Megan Anderson as a voluble young heiress in love with Denny (Timothy Andrés Pabon). It's impossible not to watch her when she is on stage, spinning around in a dizzying vision of slap-happy bliss, all vivacious and flamboyant and just on the brink of devastation. She is often in the company of a ferociously feminine Deidra LaWan Starnes as Jessie Brewster (the fictional substitute for Josephine Baker), and her saucy chanteuse is a glazed portrait of determination, anticipation and, ultimately, desperation.
The Violet Hour
To Nov. 20
Rep Stage
$15-$24
410-772-4900

And then there's Seavering himself. Ian Lockhart is ''mild and cautious'' in his leading role, but also vacant as the tony publisher with no writing talents of his own. Luckily there are more than a few colorful characters swirling around Seavering to keep the attention focused on one of the supporting characters at all times.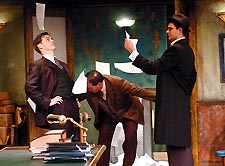 Paper tiger: Lockhart, Nelson and Pabon
(Photo by Stan Barouh)
Far removed from the glitz and glamour of a new era is Richard Montgomery's realistic set, a gritty, functional office space with exposed plumbing and dingy chair rails painted in the drab colors of an old industrial movie set. It's a decadently messy, unorganized heap of papers and chairs on an unspecified floor rising high above the streets below, and it is here that Greenberg's tirelessly ambitious play pursues its multi-layered story of what would happen versus what should happen. And while The Violet Hour may never achieve the same kind of triumphant reception as Greenberg's more popular works, it's the kind of writing that engages you to ponder all of life's what ifs and what is.
---
Guantanamo Bay, Cuba is a long way from Greenberg's dapper New York, and The Studio Theatre doesn't mind dipping their toes into scorching political waters with Guantanamo: Honor Bound to Defend Freedom. Taken from what playwrights Victoria Brittain and Gillian Slovo consider as ''spoken evidence'' -- letters from detained prisoners, family and legal aide interviews, official government statements, and speeches from a variety of voices both militant and civilian -- Guantanamo is an emotionally bare and quietly stunning production in the emerging tradition of contemporary docu-theatre.
Guantanamo
To Dec. 11
Studio Theatre
$32-$52
202-332-3300

Following the plights of four British detainees held in custody over the past four years, Guantanamo lends fresh voices to their silenced stories. As Americans we are so conditioned to perceive Muslims as terrorists and criminals that it's difficult to encounter a stage full of Arab actors with anything less than suspicion. There is no ''innocent until proven guilty'' here, it is easy -- and simple -- to assume there are justifiable reasons these particular men are being detained.
In fact, it's easy to forget that Guantanamo is all staged, that these are actors; they are not the very British detainees that are the subject of all this mired speculation. And while man's inhumanity to man is nothing new, it takes on a whole different color and intensity when it's reenacted before your very eyes. This is a place where prisoners are never informed of why they were arrested or why they are released, where the justice system is reduced to a malevolent social experiment, and where hundreds of detainees remain -- for an indefinite period of time -- to this day, with no promise of a fair trial or any protection under the Geneva Conventions.
There is no question of innocence for the four subjects under Brittain and Slovo's lens. In a ricochet of abbreviated monologues and personal testimony, we are introduced to lives not so very different from our own. These are travelers and scholars, businessmen and family men, and with crisp, cutting performances from Omar Koury, Harsh Nayyar, Andrew Stewart-Jones, Kaveh Haerian, and Dikran Tulaine, we receive an intimate education on their survival even in the most unimaginable conditions.
Serge Seiden's still, barely theatrical staging features authentic and intelligent costume design from Reggie Ray, and although the script runs on slightly longer than an honest production can sustain, with such rich, textured material at its core, the limber stretch of Guantanamo can be forgiven. The more urgent question is how to forgive a reckless government for closeting its own nasty forms of terrorism.
---