Sister Christian
An ethereal touch of fantasy graces the Folger with a puppet-enhanced production of Shakespeare's 'problem play'
Fred Rogers would be proud. The whimsy and wonder channeled through his King Friday and haggy Lady Elaine of Mister Rogers' Neighborhood comes teeming to life in Aaron Posner's Measure for Measure. In a charming production that employs the extraordinary magic of puppetry, Posner returns to the Folger Theatre after his triumphant The Two Gentlemen of Verona with a savvy and stylish rendering that takes its cues from Broadway's puppet-prancing Avenue Q.
But just like that 2003 blockbuster with its foul-mouthed monsters, this is certainly no child's play. Shakespeare's weighty tale of ethical dilemmas and moral consequences may not seem an agreeable fit for an eccentric parade of puppets, but Aaron Cromie's curious creations -- all roughly three or four feet tall -- add an ethereal touch of fantasy that sparks the imagination. The choices are inspired, and Posner has imbued his signature blend of classic discipline with post-modern sensibilities to create a mythical milieu for Shakespeare's metaphorical Vienna.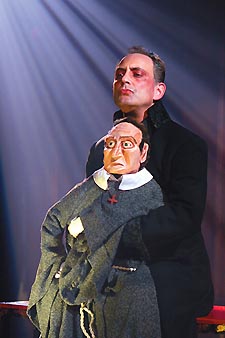 Puppet master: Zeisler.
(Photo by Carol Pratt)
Unlike a certain classic rock ballad from Night Ranger, Measure for Measure isn't exactly dedicated to a younger sibling's coming of age story. But Shakespeare did pen a moral parable highlighting a righteous Christian sister and her imprisoned brother, and the measures she must take in order to save his life. His sin? He's guilty of impregnating his love before marrying her, a crime punishable by death and brokered by a tyrannical justice. The brother's only hope is the submission of his sister's virginity to Angelo, a man so consumed by lust that he is willing to bend the very laws he so passionately enforces.
Widely recognized as one of Shakespeare's ''problem plays,'' his last official comedy includes a standard bed trick, a few characters providing comic relief, and a conclusion featuring multiple couples reunited in embrace. The quick-fix solutions presented in Measure for Measure remain questionable and controversial, and Posner doesn't flinch when the Duke finally delivers his judgment. There are still moments of shock and awe as the lawless are sentenced to marriage (how horrible), and Posner counters with an unresolved ending as open to interpretation as any current case being argued in the Supreme Court.
Visually and psychologically, it's a production to soak up as a sponge, absorbing all of Posner's subtle clues and implications for later digestion. Daniel Conway's compelling scenic design features supertitles projected on a cockeyed screen on which Posner highlights applicable Biblical quotes and meaningful lines from the text. It's an interesting device that is only as effective as the performances rendered beneath it.
Luckily Posner's cast is a highly-skilled, well-trained crew of actors and puppeteers who play along well with their miniature co-stars. Todd Scofield and Tony Nam are the actors manipulating most of the puppets, and their performances are delightfully diverse and often eclectic. The conceit works most successfully in concealing the Duke, and Mark Zeisler's cunning performance is an interpretation swimming in intellect and nuance.
The two principal roles of Angelo and sister Isabella belong to real-life husband and wife Ian Merrill Peakes and Karen Peakes. The married thespians generate the kind of heated battle of wits that stirs the senses with the possibility of fulfillment.
The entire production wears the distinct stamp of Posner's wit and carefully-designed direction, from Devon Painter's internationally-flavored costumes to the blood-red lighting by John Hoey. There is a universal message about the dangers of authoritarian dictatorship and absolute law buried somewhere beneath Shakespeare's verse, but don't worry about walking away with an urgent sense of its importance. Posner is certain those ideas will settle in only after the audience determines who the real puppets are.
---