Possessive Behavior
Synetic and Theater J offer a thrilling fusion of dance and voice in a brooding tale of possession and revenge
They could be anywhere in the world conjuring up their unique blend of pantomime and dance, music and emotion. Yet Paata and Irina Tsikurishvili, that dynamic husband-and-wife duo known for their movement-based Georgian theatrics, settled here in D.C., amid dozens of other small-budget, big-dreams companies. How lucky we are that they chose to call this town their home.
The grace and artistry of the Tsikurishvilis infuse a classic text -- S. Anski's 1914 folktale The Dybbuk -- with surreal imagery and bold, vibrant physicality. It's a typical Synetic production, embracing all of the troupe's signature aesthetics: dark shadows and ominous clouds of fog, melancholic ballet with dazzling displays of athletic energy, passionate music underscoring each emotion. In a pragmatic collaboration with Theater J, a natural brand of grounded realism is added to Synetic's physical stylings.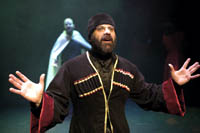 Father unkind: Kavsadze (front), with Armand Sindoni
(Photo by Raymond Gniewek)
Director Paata Tsikurishvili worked with Theater J's Hannah Hessel to adapt Anski's fable to fit his distinctive brand of dance-theater. The result is a captivating 90-minute fusion of Georgian-Jewish storytelling drunk on its own mysticism. While exploring themes of cultural tradition, religion, family, promises made and broken, and two souls bound by the heavens, the revised script tells only a small fraction of the story. The challenge in casting strong dancers is that they aren't always the best actors, and here Synetic occasionally falters with an odd coupling of stiff, unnatural dialogue and casual, contemporary musings. The actors seem stymied by how to approach the sporadic dialogue and at which level of intensity. But this is ultimately a love story left to the devices of a physical vocabulary, and with original choreography by the incomparable Irina Tsikurishvili, The Dybbuk plummets into sadness with a bittersweet tale of two lovers parted by earthly desires.
Chonnon (Andrew Zox) is a fervent Yeshiva student haunted by his feelings for a beautiful woman. As he reads the Torah he discovers the ancient studies of Kabbalah, and begins to believe that holiness can be achieved through letters and numbers. (''God hides His secrets in words.'') Consumed by his studies and his passion for Leah (Irina Tsikurishvili), Chonnon is devastated by news that her father (Irakli Kavsadze) has promised her to a wealthy merchant. The father did not know that Chonnon is Leah's bashert -- ''promised one'' -- and in a rapturous fit of sorcery and grief, Chonnon surrenders to a mysterious death while studying Kabbalah. On the eve of Leah's wedding Chonnon's restless soul possesses her body as a ''dybbuk'' (the Yiddish term for a spirit that enters the body of the living), exacting revenge on those who stood between their sacred union.
The transmigration from soul to body is executed with fiery aggression by Irina Tsikurishvili. The dance equivalent of a virtuoso opera singer, she knows that every gesture, every breath, every expression adds to a whole picture of character and motive. Here Tsikurishvili is the model of eloquence, and her ability to lend subtext to every movement is the real gift in The Dybbuk.
Zox's Chonnon is a brooding, lovesick man who never has the chance to fully flesh out his character -- a fault of the script, not the actor. Kavsadze offers an energetic, near slapstick performance as the guilt-stricken father whose honest mistake results in tragedy. Philip Fletcher is also a formidable presence as the eager young groom whose bride requires the services of an exorcist.
The Tsikurishvilis are credited with the evening's lush musical landscape of soaring orchestrations and solitary instrumental interludes. Anastasia Ryurikov Simes provides the sparse setting and detailed Georgian costumes, with imaginative lighting by Colin K. Bills. It's all very dark and romantic, and with such an inspired marriage of two local theaters, The Dybbuk unites two very different visions of stagecraft in a production that lingers between the contemporary and the conventional.
---