Bliss Free
'Sex Habits' is little more than a toothless look inside the stifling, well-starched life of a 1950s marriage
Is there anything Will Gartshore can't do? After spectacular turns in last year's Urinetown and A Year with Frog and Toad, the local superhero manages to transform a minor, otherwise dull character into a quirky, sap-soaked lover in Julie Marie Myatt's The Sex Habits of American Women. As Edgar Green, a bumbling young therapist engaged in an affair with his mentor's wife, Gartshore commands the stage. With a sober appeal to the head and heart, his neurotic doc is about as close to orgasmic as Signature's otherwise sterile production comes.
Inspired by the uninspiring tome of the same title, The Sex Habits of American Women examines the relationship between fictional sex psychologist Fritz Tittels (based on real-life author Fritz Wittels, M.D.) and his happy homemaker housewife Agnes (Helen Hedman). It's 1950 and Fritz (Ralph Cosham) is on the cusp of publishing his controversial study of women and their sexual wiles, a topic one imagines Dr. Tittels would have mastered at home. But sweet and loving Agnes is as satisfied in the sack as a caged bird, relying on afternoon martinis and basting pot roasts to quell her sexual appetite. Daughter Daisy (Teresa Castracane) is 35 and chronically single, another point of contention in the Tittles household.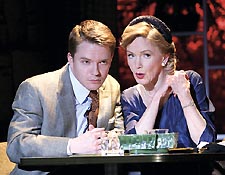 Gartshore and Hedman
(Photo by Habit forming: Carol Pratt)
With a placid reply of ''Yes, Dear'' to her husband's every request, prim and porcelain Agnes is forced into difficult decisions mandated by the era. Not only has she taken to bedding one of her husband's young colleagues, but when public school teacher Daisy confesses to kissing one of her students, Agnes must sacrifice her own happiness for the sake of her daughter's future.
Michael Carnahan's realistic set quickly transforms from a sunken living room for a family of means to a voyeur's wet dream with over a dozen television screens. That savvy design works well in relaying one of Myatt's conceits: the juxtaposition of a contemporary mom granting interviews for a documentary about her sexual story in 2004 with the Tittles story. Director Michael Baron pre-recorded the five- and 10-minute clips, presenting them as between-scene commercial breaks. And while actors Amy McWilliams and Paul Morella do their best to work magic on camera, the dialogue is better suited for the stage. Without live actors and a simultaneous camera feed, the audience is temporarily removed from the primary plot. Moreover, the filmed scenes fail to enhance the saga of the Tittels.
Baron takes few risks with the material, rendering his production as overheated and undersexed as the script itself. Without a director willing to explore all of the creative possibilities, the story is little more than a toothless look inside the stifling, well-starched life of a 1950s marriage.
The Sex Habits
of American Women
To May 7
Signature Theatre
3806 S. Four Mile Run Dr.
Arlington, Va.
$29-$49
1-800-955-5566

The graceful Hedman has run the gamut of age in recent theatrical productions. From a 16-year-old survivor in Rep Stage's Kimberly Akimbo to the 65-year-old Agnes Tittels, she's proven that unlike the self-deceiving Norma Desmond, she really can play any part. Her Agnes is a docile creature whose dedication to her husband and his fragile ego is apparent in her tender portrayal of a woman determined to appear as calm as a summer lake in spite of the storm swirling inside. Cosham is a perfect match as her stoic German husband, and Castracane works anger and resentment a hundred different ways as their frustrated daughter.
Just like the well-tailored fashions of a Doris Day-Rock Hudson flick, Alejo Vietti's costumes are a nostalgic nod to the days of wide-waist belts and satin sashes. And while Agnes struggles between keeping the crinoline on and taking it off, Myatt drives home the point that men are clueless savants who remain blissfully ignorant of the feminine libidos raging just beneath their noses. But don't let the title fool you. The Sex Habits of American Women is ultimately about as titillating as a routine visit to the gynecologist. With your mother.
---