Unmasked
Theater J presents the world premiere play 'Bal Masque'
In his 1997 biography of Truman Capote, the eccentric, gay author whose literary works are regarded as among the best America has to offer, George Plimpton polled several people about their recollections of Capote's ''party of the century.'' The 1967 Black and White Ball made headlines. As guest John Knowles, remembered primarily for his novel A Separate Peace, told Plimpton:
''I felt as if we were in Versailles in 1788. People were applauding us in the street as we walked in. We had our masks on.... [W]e were he last of the aristocrats.''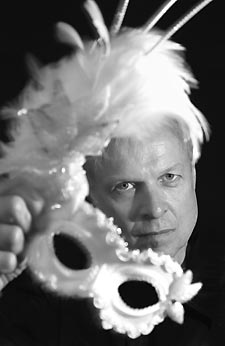 Vreeke
Nearly 40 years later, Theater J is presenting a world premiere play by Richard Greenberg that uses the famed Black and White Ball for context: Bal Masque. But Capote sycophants, be warned.
''If you want some hefty, social statement about Truman Capote and the politics, the art of the time, you're not going to get it,'' says John Vreeke, the gay director of the new work. ''It's really just three couples after the ball, talking. That's the story. People love it for that reason, or they're disappointed because they expect a far more juicy, outrageous story about the Black and White Ball and Truman Capote.''
Instead, says Vreeke, audiences get a play staged in three very different parts -- not acts -- with inspired dialogue, precise stage direction, and an examination of human relationships that can stand on its own legs, rather than Capote's.
''The context of the play was not as important for me as understanding the individual characters and their relationships,'' says Vreeke.
Vreeke's own relationship with the play seems to have humbled him, in that he offers abundant praise for Greenberg's writing, saying that the playwright's attention to detail made it difficult to leave much of his own mark on Bal Masque.
''I get immense enjoyment from something that demands more directorial interpretation, which is not Bal Masque,'' Vreeke shares. ''At the same time, I will always drift toward the strongest writers. Greenberg's writing is extremely careful, precise, gifted. I just followed the stage direction and followed the rhythm of the language.''
Bal Masque runs through May 21 at Theater J.
---