Out of Time
Eric Overmyer's 'On the Verge' is a display of verbal gymnastics that never quite adds up
''Forgive me, but I don't follow.''
So says Mary, one of Eric Overmyer's three time-traveling dames in On the Verge or the Geography of Yearning, a peculiar grazing through time and elocution that begins somewhere in 1888 and ends elsewhere in 1955. Mary (Laiona Michelle) is just one of three women riding a wave of random cultural references and era-specific jargon in the verbose venture that in Arena Stage's hollow revival is nearly impossible to sit through, much less follow.
The trek begins on a bare stage with a nominal introduction to the Victorian explorers, a droll trio of anthropologists decked out in pith helmets and bustles. Armed with huge khaki backpacks and a matching set of umbrellas, they're raring to go on a mystical journey through unknown territory. They would demonstrate a prototype for feminists of the future, but director Tazewell Thompson's production immediately falls prey to the ''this is theatre'' syndrome, exuding an inflated, artificial quality that makes it difficult to suspend disbelief.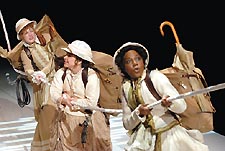 Time-travellers: Stuart, Bennett and Michelle
(Photo by Scott Suchman)
With all the substance of stale shortbread, On the Verge marches on with its feeble plot, introducing Mary, Alex and Fanny to wire eggbeaters and strange words and symbols from another world. The women spend the first hour pretending to hike, climb and bushwhack through invisible jungles, all while blurting out arbitrary phrases they don't yet understand. Words flow through them like divine blasts of inspiration from the future, and sooner or later the fearless femmes are introduced to various (and again, random) characters such as a gas station attendant and a baby Yeti. And so they take to their adventures, ''absorbing the future by osmosis.''
Watching the ladies pretend to unlock mysteries of the universe gets old after a while, and you know you're in trouble when the most exciting thing that happens during the first act is a loud clap of thunder. But if you can make it through the dreadful first half of Overmyer's story, there are a few mildly amusing twists in the second. Tom Beckett brings new depth to the term ''character actor'' with no less than eight different costume changes, and he is a joy to watch on stage. From a Chinese madame to a cheesy lounge lizard named Nicky Paradise, Beckett is a breath of fresh air.
The three actresses never fully reveal what their women want. All plots are essentially about someone pursuing something they can't have, but just exactly who these women are and what they are after is anybody's guess. One thing is certain: the thrill-seeking threesome represent the past, present, and future.
Michelle's Mary, a snippety, scholarly matron welcomes the future while squinting over her spectacles with disapproval for the present. Susan Bennett's Alex gets stuck in 1955, happy to hover over a surfboard in her new pedal pushers. She's a bumbling little Miss Malaprop, physically stumbling over expressions she doesn't quite understand. Finally, Molly Wright Stuart's Fanny is a romantic dreamer clutching the past in her heart.
On the Verge or the Geography of Yearning
To June 11
Arena Stage
$46-$60
202-488-3300
www.arenastage.org

That's really about as poignant as Overmyer gets. Now a successful television writer and producer (his oeuvre is crime and detective dramas), Overmyer wrote On the Verge in 1985. Perhaps a fable about three intrepid women whose knowledge catches up with their tongues may have been amusing then, under different direction. But now his humor is an unfunny medley of pointless references and relentless wordplay. He ends his latest edition with 11th-hour vernacular, including a barbed mention of ''Ground Zero.'' Here the phrase seems incomprehensible and out of context, just like the preceding action.
Perhaps that's the overarching theme that failed to land. If Overmyer intended to drive home the idea that everything is relative, and therefore meaningless without context, he never provides a viable world for three women on the verge of fully realizing their worth and claiming their own new metaphysical frontier.
---