Bottom Less
"Ma Rainey's Black Bottom"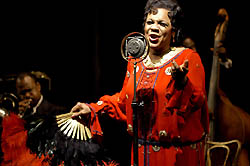 Rainey Days: Fabrique
(Photo by Scott Suchman)
By design, playwright August Wilson's work is never going to move at anything even resembling breakneck speed. His scenes frame grand, languorous monologues -- richly detailed stories, or soap-box philosophizing -- about the African-American experience. All the action stops cold, as every other character on stage listens intently to every word being spoken. Momentum is hard to come by, and subtlety is scarce.
So it is in Arena Stage's handsome but heavy-handed mounting of Ma Rainey's Black Bottom, Wilson's 1920s component of what will be, upon completion, a ten-play cycle reflecting African-American life in the 20th century decade by decade. With so much emphasis on these important monologue moments, the surrounding exchanges between characters beg for a much lighter touch and brisker pace than director Tazewell Thompson has crafted them with.
At the core of the play are blues musicians Cutler (Hugh Staples), Toledo (Frederick Strother), Slow Drag (Clinton Derricks-Carroll) and Levee (Gavin Lawrence), the band members awaiting a recording session with the eternally-tardy singer Ma Rainey (Tina Fabrique). As the men joke around with and antagonize each other, Thompson turns the volume up to caricature-level, contenting himself with broad, albeit enjoyable, comedy from Strother and Derricks-Carroll; overwrought grandstanding from Lawrence; and loud, stiff, colorless readings from Staples and, later, Fabrique.
It's no surprise that the villain of the piece is Sturdyvant (Timmy Ray James), the white studio owner who profits from Ma's talent, but has no patience for her diva-like behavior. Not that it couldn't be a surprise just how far Sturdyvant will go in his under-handedness, pushing one of the musicians over the edge. But Thompson and James have made Sturdyvant such a snarling, simplistic monster that it's only a question of when he'll pull a filthy trick.
Wilson briefly touches on Ma's presumed lesbianism, revealed in her unabashed fawning over a young companion, Dussie Mae (Kashi-Tara). But Dussie Mae takes much more of an overt sexual interest in Levee, leading the band members to admonish him for messing with "Ma's girl," and neither Fabrique, Kashi-Tara nor Thompson add enough complexities to Ma and Dussie Mae to fully complement Wilson's characterizations of the two women.
By the time Ma Rainey's Black Bottom grinds to a tragic, melodramatic end, I felt that I'd taken much more of a drubbing from the director and actors than necessary to get Wilson's points across. Thompson and company have overwhelmingly relegated these characters to the harshest emotional realms of black and white. Some shades of gray would do wonders.
Through Dec. 29 in the Kreeger at Arena Stage, 1101 6th Street SW. Tickets are $10 to $52. Call 202-488-3300. Visit www.arenastage.org.
---