Innocence Lost
The Peanuts gang hits the teenage wasteland at Studio, while two sets of divas raise the roof at Arena
Poor Snoopy. America's favorite beagle has turned rabid and mangled his chirping little friend. What's a teenage blockhead to do? Why, question the Universe, of course, and that means poising dense philosophical queries to his eclectic circle of friends, a happy little gang of comic strip personalities better known as the kids from Peanuts. ''Where do you think dogs go when they die?'' asks the teen -- a.k.a. ''CB'' -- and the answers are as colorful as Peppermint Patty, Marcy, Linus, Lucy and Pigpen would want them to be.
But the friendly neighborhood rugrats are no longer grade-school chums who hang out with a pair of quirky siblings and their aviator dog. They're hormonal high school harlots, jocks, drama queens and stoners. Reinvented as Tricia, Marcy, Matt, Van and Van's Sister, they all still admire Chuck for his easygoing, ''predictable'' nature, until he suddenly acts on an impulse that is anything but ordinary. As CB experiments with his sexual identity, the light and loving humor of Charles M. Schulz's beloved cartoon is spiked with a bottle of Jack Daniels in Bert V. Royal's Dog Sees God: Confessions of a Teenage Blockhead.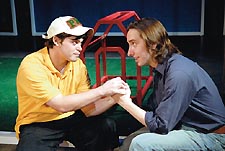 Love among the Peanuts set: Manno and Gardiner
(Photo by Scott Suchman)
First produced as part of the New York International Fringe Festival in 2004, Dog Sees God affectionately skewers Charlie Brown and his playful pals in a manically manipulative and surprisingly lucid piece of theater that crushes the well-established stereotypes we all know and love. While CB (James Manno) remains the appealing mensch as a struggling Everyteen, sister Sally (Lauren Williams) is a punk-glam Wiccan intrigued by performance art. Pigpen (Robert Rector) is now a potty-mouthed jock forever dispensing hand sanitizer, Lucy's a pyromaniac fag hag, and brother Van (Evan Casey) is always toasted, a Buddhist skater who rolled up the ashes of his old security blanket for a fitting farewell toke.
Then there's Tricia and Marcy (Catherine Deadman and Ryan Christie), two spastic cheerleaders who review the history of the spork, and finally, Beethoven (James Gardiner), the shy, aspiring pianist who spends his lunch hour rehearsing in the music room. All of the awkward awakenings of adolescence are projected through Manno's confused CB and the bashful Beethoven. Royal's unexpected theme of ''It's okay to be different'' is, believe it or not, endearing in a 2006-meets-1976 kind of way.
The talented cast of eight approach the script as though these are real teens facing real dilemmas. It's easy to invest in Rector's rage and the angst of Williams, and Casey's star burns bright with a riotous monologue about the paradox of the Mexican pizza. But front and center is always Manno, a cuddly, life-sized version of the good man in the yellow, zigzagged shirt.
Following a successful season of novelty Neil LaBute and Bryony Lavery's Frozen, the Studio Theatre Secondstage tackles Royal's alternative parody in a condensed 90 minutes. And while you'd never imagine that a show lampooning the nostalgia of yesteryear could be both adorable and acidic at the same time, beneath the comic glaze of Dog Sees God is a depth that gently reminds us of innocence lost -- and found again.
---
Arena Stage is heating up this summer with Marion J. Caffey's 3 Mo' Divas: A Musical Celebration of Class, Sass, and Style. Featuring two different casts of three wailing women each, 3 Mo' Divas is an aerobic night of music that channels diverse voices, from Billie Holiday to Beyoncé. Distinguished as ''Cast A'' and ''Cast 1'' (such diplomacy), the first evening open to press showcased the numerical cast of Andrea Jones-Sojola, Nina Negri, and Vivian Reed. (The luminous Gretha Boston is part of the alphabetical set.)
A lovely evening of stunning gowns and gratuitous costume changes -- no doubt inspired by the sensuous work of designer Toni-Leslie James -- 3 Mo' Divas sets out on a delicious aural journey under the musical direction of e'Marcus Harper. Some of the songs, particularly the operatic openers, are crudely overamplified, but all is forgiven after the requisite medley of showtunes and cheesy choreography. The exception is an otherworldly duet of ''Strange Fruit,'' expertly sung by Reed and Jones-Sojola while bathed in Richard Winkler's melodramatic lighting. The effect is a dark and brooding tribute that lends a serious note to an otherwise buoyant affair.
Reed is the most memorable diva of the evening, delivering rousing showstoppers with ''God Bless the Child'' and a smoldering version of ''Fever,'' and Jones-Sojola shines in a scat-tastic rendition of ''How High the Moon.'' All three sirens are perfectly complemented by Dale F. Jordan's swanky set design, and the divas are so good at playing up the evening's title that you're left to wonder whether or not they really are as competitive backstage as they are front and center.
---