Latin Infused
Dan Guerrero's one-man show, 'Gaytino!
Before Dan Guerrero even wrote a one-man show detailing his experiences as a gay Latino in show business, he promptly trademarked the show's title. ''My momma didn't raise no fool,'' he says with a chuckle, explaining his ownership of the term ''Gaytino.'' His father, legendary Chicano musician Lalo Guerrero, didn't either. ''When I said that word,'' Guerrero recounts telling his famous father before he died, ''he bolted up in his chair and said, 'Mijo, my son, that's your future!'''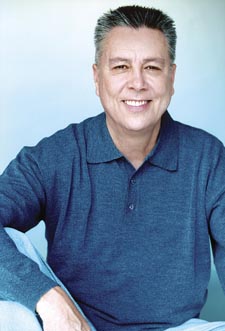 Dan Guerrero
And so it has come to be. Guerrero's ˇGaytino! which premiered in Los Angeles two years ago, will be staged at the Kennedy Center next week. ''Okay, I can die now,'' Guerrero says. ''Aside from taking it to New York, I don't know what could be bigger. That a show called ˇGaytino! would play that prestigious national venue is huge for both [the gay and Latino] communities.''
Guerrero performed off-Broadway in the 1970s and then became a Broadway talent agent, helping to discover future stars, including Sarah Jessica Parker. For nearly two decades, the Los Angeles resident has produced and directed Latino-themed, English-language specials for stage and television. All of those experiences factor into his show that he says comes ''dangerously close to being a mini-musical.''
''I'm a storyteller, not an actor,'' says Guerrero, explaining that his often riotous show is ''written so that you feel like I'm just sitting in a living room telling you stories about this or that. It's hard to believe some of them. But every word in this is true.''
Guerrero, who will turn 68 in October, says his next project is likely to be a show about being gay and ''maturing, which sounds so much more elegant than aging.'' His partner of nearly three decades says he should call it ''Graytino.'' Guerrero says he's working to trademark the word now.
Guerrero will perform ˇGaytino! A Remarkable Life Journey in Story and Song at the Kennedy Center's Terrace Theater on Tuesday, June 17, and Wednesday, June 18. Showtime 7:30 p.m. Tickets are $38. Call 202-467-4600 or visit www.kennedy-center.org.
---