Gay Altar
Dominion Stage presents a ''sizzling'' production of Altar Boys
''He's described in the script as having a deep and abiding love for Cher and all things show tunes.''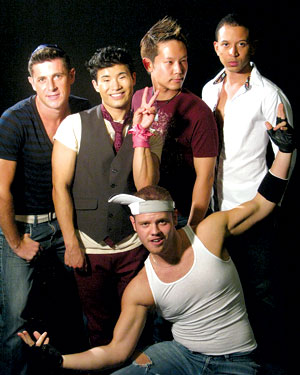 Altar Boyz
Patrick M. Doneghy is talking about Mark, the ''sensitive'' member of the Christian boy band depicted in the musical Altar Boyz. Though it's never explicitly stated, explains Doneghy, ''it's pretty obvious that he is the gay member of the group."
Doneghy is the director of Dominion Stage's production of the Gary Adler and Michael Patrick Walker musical, which just ended a near-record-setting run Off-Broadway earlier this year. ''It's a funny, high-energy, feel-good show,'' Doneghy says. ''There are quite a few numbers that really make the hairs stand up on your arm.''
After seeing a production of Altar Boyz in Baltimore a few years ago, Doneghy jumped at the chance to helm this production for Dominion. The 42-year-old, who works by day in the broadcast studio at the House of Representatives, has been a frequent actor and director at Arlington's all-volunteer community theater for years now. He most recently starred in Love! Valour! Compassion! Last year he directed Glorious. ''It's a great group,'' Doneghy says of Dominion. ''They do different shows that aren't just the same old thing that everybody else does.''
Dominion certainly produces shows with gay appeal. Altar Boyz, for example, stars Patrick Kim, Mickey DaGuiso (who plays ''sensitive'' Mark), Rob White, Aaron Alexander and Chase Maggiano -- ''five hot guys dancing and singing their hearts out,'' explains Doneghy. The satire follows the boys in the band on their last night of a ''Raise the Praise Tour.'' They're good Christian boys -- plus one token Jew -- so an open shirt here or there is about as risqué as it gets. Teases Doneghy, ''You get the sizzle but not quite the steak.''
Still, with this cast, Doneghy suggests the sizzle is enough. ''I was very lucky in being able to cast five guys who not only sing well together but who also get along really well. You can really feel their connection when you watch and hear them.''
Altar Boyz runs to Oct. 16. Gunston Arts Center, 2700 South Lang St. Arlington. Tickets are $15. Call 571-DS-SHOWS or visit dominionstage.org.
---