Truth and Consequences
Constellation's Women is a risky project that ultimately succeeds, while Keegan wonders why fools fall in love
Trying to draw a conclusion about Constellation Theatre Company is not unlike looking up into the night sky, trying to discern the actual figures of swans and archers and bulls in the vast scatter of stars. While the suggestions of these mythical creatures are poetic and lovely, there are no actual outlines to be found. No clear delineation of sky and the shoulder of Andromeda, the chained maiden.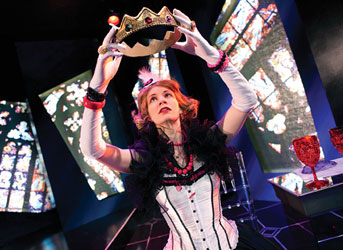 Women Beware Women
(Photo by Daniel Schwartz)
In one moment Constellation will take the stage to bring Chekhov's Three Sisters to life. In another, audiences are asked to join them for an epic journey – following paths laid by world mythology or horror legend Clive Barker.
They have even asked us to join them in a brothel for an evening of farce and fancy.
Time and again they ask audiences to trust them. To give them an opportunity to show us how all these ideas, all these seemingly disconnected fascinations will take shape in the real world. Or, at the very least, how they will come into being on the constantly shifting stage of their home at The Source.
This time, on a multi-level construction that somewhat calls to mind a series of human-scaled puppet stages, Constellation is presenting Thomas Middleton's 17th century tragedy Women Beware Women. Kitted out like the slightly mad mix of a children's theater production of a tale by the Brothers Grimm and a fantasy conjured by Tim Burton, Constellation's Women is a risky project that stumbles occasionally but ultimately succeeds.
The play opens as Leantio (Thomas Keegan), a good-hearted workingman, surprises his mother (Lisa Lias) with both an unexpected homecoming and a new bride. Leantio's mother is far more enthusiastic about the former than the latter – particularly because she is asked to keep her new daughter-in-law a secret. Regardless, she does her best to make Bianca (Caley Milliken) feel welcome.
But Bianca comes from a background that is somewhat more comfortable than Leantio. More than that, her new groom is generally off in the world, earning enough to keep Bianca in the lifestyle to which he hopes she will become accustomed. And so, when a visit to the neighboring estate takes a turn or three to the worse, and the financially better, Bianca's head is quickly turned.
Add to this mix an adulterous May-December affair, some incest, a plot to murder a holy man and some deadly drama within a drama and what you have is a sexy, tragic morality play.
Without question, Constellation's greatest strength is their ability to work as an ensemble. In an almost entirely unique fashion, their fortunes seem intricately tied together. No singular standouts, no one languishing in the dust. There is a kind of practiced coherency at work that allows them to play at the edges, confident enough to make the occasional false step without tumbling into the abyss.
Where Katy Carkuff might appear to be still feeling her way through the development of her character Isabella, she is smartly matched with Felipe Cabezas expertly portraying her engagingly awkward fiancé. Where Keith Irby's pimp-daddy Guardiano is almost uncomfortably outsized in his role, Sheila Hennessey and David Zimmerman maintain a lovely and close orbit to reality.
Perhaps the greatest risk Constellation has taken with Women Beware Women is the utter sincerity with which they're approaching the material. The play -- a variation on the tragedy where characters are meant to stand in for moral failings and vices (of which there are plenty) -- is almost a cartoon. Just as there is nothing sacred, there is nothing subtle or cleverly foreshadowed. It's all out in the open and often narrated to be absolutely sure no deed or misdeed is lost.
Sure, Kendra Rai's costumes are a quirky and clever departure, but Constellation Theatre is not ironically winking at Jesse Berger's adaptation of Women Beware Women. They are performing it, and, ultimately, performing very well.
CONSIDERING THAT Keegan Theatre's Church Street stage is quickly occupied by a bottle of Jack, a bottle of tequila, a lariat, a shotgun and a couple that includes a man pursuing a woman who is trying desperately to leave him while he is simultaneously escaping a woman who likely wants to see him dead, it's not surprising that things get a little heated. And more than a little loud.
WOMEN BEWARE WOMEN




To Nov. 14
Source Theatre
1835 14th St. NW
$25-$30
800-494-8497
constellationtheatre.org
FOOL FOR LOVE



To Nov. 7
Church Street Theater
1742 Church St. NW
$30-$35
703-892-0202
keegantheatre.com
Sam Shepard's claustrophobic cowboy-tinged Fool for Love places Eddie (Mark A. Rhea) and Mae (Larissa Gallagher) in a shabby, Mojave Desert motel room not so much to see what will happen as to unspool what has already taken place.
Eddie is the kind of testosterone-fueled uppercut that Rhea seems consistently attracted to doing. It's a power role, long on strain and muscle and fearsome in its energy. Eddie is a tough guy who seems as likely to punch someone out of sorrow as anger and Rhea makes the character truly work. He even manages to infuse some rough-hewn empathy along the way, not necessarily making us like Eddie anymore, but at least giving us a glimpse of his humanity.
Gallagher has some fine moments of her own, though her character fades most from view when rage becomes her single, somewhat unconvincing, note.
Which is the thing most hampering Fool for Love. While Shepard has crafted a play that is unquestionably urged forward by anger, director Colin Smith plays too little with the silences available. When he does – employing them beautifully at such key moments as the show's opening scenes and at the moment of Fool's greatest reveal – we experience a gorgeous depth that allows the craft of the actors to shine cleanly through. We feel the tension build as in those brief seconds before a roller coaster breaks over the first drop. It's in those wonderful moments that we get to enjoy the entire ride, and not just all the screaming.
---