Final Examination
"A Little Night Music"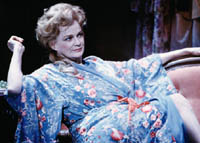 Little Lady: Blair Brown as Desiree
(Photo by Joan Marcus)
     Settle down, class. Our summer session in Sondheim analysis isn't over just yet. But now that the final show in the Kennedy Center's Sondheim Celebration repertory, A Little Night Music, has opened, we can finally take a deep breath and ask ourselves, "What have we learned?"
     No, the most important lesson is not that if you haven't bought tickets by now, you're S.O.L.
     Even for a sold out run such as Night Music's, there are always some tickets available at the last minute. So go to the Box Office before a performance you really want to see, and there's a pretty good chance you'll get in. (Big, Unsubtle Hint: Passion, however, is not yet sold out, and it's the best production of the Sondheim Celebration lot.)
     Let's consider instead another lesson -- that all Sondheim Celebration productions are not created equal.
     We've witnessed the composer's craft -- and the Kennedy Center's -- at its sharpest in Sweeney Todd and Passion. Great casting puts Company next, though the book of Merrily We Roll Along is more engaging. But the artistic conceits behind A Little Night Music and Sunday in the Park with George have ended up feeling a bit too precious in a brisk production environment that foregoes a certain level of meticulousness the works demand.
     Without an overall mastery of the whimsical, fantastical aura suggested by its waltz-structured score and frothy tale of romantic misadventure in early-1900s Sweden, the Sondheim Celebration's A Little Night Music relies on the appeal of individual performers. In that regard, it delivers in spades.
     Blair Brown seems tailor-made for Desiree, the aging actress with a trail of married admirers. Her comic timing is great for her abundance of witticisms in Hugh Wheeler's book, she has the vocal chops to handle her songs with ease, and she adds the perfect level of worldly wisdom to Desiree's manner.
     Better still is Randy Graff as Charlotte, the countess who puts up a cynically brave face as her husband Carl-Magnus (Douglas Sills) woos Desiree in plain view. Wheeler crafted exceptionally caustic, hilarious lines for Charlotte, and Graff nails each and every one to perfection. It's an exemplary case study in musical comedy performance, and a pure joy to watch.
     Sills takes Carl-Magnus to a nicely outrageous level of bluster, bravado, and caddishness, making the character the broad caricature he should be. It complements Graff's Charlotte quite well, though the understated, pretty bland John Dossett doesn't fare as well in comparison as Fredrik, Carl-Magnus's contender for Desiree's attention.
     Derek McLane's oversized-leaf-motif set starts to capture the dreamy air of the work, though it and the literal period costumes by Michael Krass could easily stand to delve deeper into lighter shades and non-realistic visual designs. And while director Mark Brokaw has done well to highlight the personal strengths of some charismatic leads, he hasn't tapped into A Little Night Music's full potential of sublime, intoxicating heights of melodic, romantic enchantment. 
Through August 25th in the Eisenhower Theater at the Kennedy Center. In repertory with Merrily We Roll Along and Passion. Tickets are $20 to $79. Call 202-467-4600. Visit www.kennedy-center.org/sondheim.
---