Send in the Clowns
For their silent King Lear, Synetic turns in a production that is enchanting, original and gratifyingly macabre
For those of us who avoid the antics of clowns at all costs, 95 minutes in their company might sound like torture. In fact, we'd much rather spend the 95 minutes watching the clowns being tortured. Gratifyingly close to the latter, Synetic's King Lear offers a feverishly fascinating re-invention of Shakespeare's tale in which a "court" of (without doubt) European clowns occupy the derelict end of an anonymous, fog-shrouded beach. As laughably avant-garde as this sounds, performed with Synetic's theatrical prowess and vision, it is enchanting, original and gratifyingly macabre.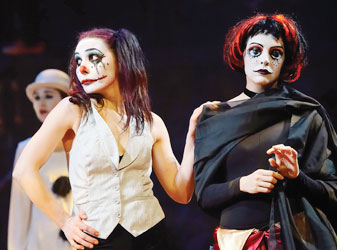 King Lear
(Photo by Graeme Shaw)
A theater company steeped in physicality, Synetic is about sound, music, dance and acrobatics, but not always speech, and this Lear is the latest in the Company's series of "silent" Shakespeare productions. Despite the narrative challenge and Synetic's traditional running time of around an hour and half, adaptors Paata Tsikurishvili and Ben Cunis have contoured the convolutions of the play to keep the action clear and the emotions front and center. They have also found room to innovate, turning Lear's most loyal daughter Cordelia into a man, Cordelio. Thus we get a strong sense of this misguided king, the tragic unraveling that occurs when he divests his power among his adult children, and an utterly original take on his rejection of the loyal Cordelio.
The set is drenched in nightmarish gloom, but bright patches of color dance with the players on faces and clothes. And while the soundscape of Irakli Kavsadze and Konstantine Lortkipanidze may be brooding, melancholy and on edge, it just as effortlessly slides into trip-hop-inflected dance rhythms. As Irina Tsikurishvili's choreography gives each character identity, she also assures that every corner of this strange piece of land is filled with movement or stillness -- each as important as the other. Finally, with a cast of players who excel in their ability to embody character in movement and face, the whole is a beautifully conceived, rendered and executed piece of interpretive art.
Still, at their hearts, the people of Synetic are storytellers, and they strive to show and tell. In the title role, Irakli Kavsadze brings the grinning unpredictability of an explosively unstable mind and yet also the yearning of a damaged heart. Though more about movement than dance, Kavsadze's impressive physical presence is a scene-stealer -- even beside the buff. He is the trapeze "catcher" turned clown, the contender hardened by the vagaries of life. He is fascinating to watch.
As Lear's opportunist daughters, Goneril and Regan, Ira Koval and Irina Tsikurishvili vibrantly bring to life a pair more than ready to trample their way to the top. A child in an alpha-partier's body, Tsikurishvili gives Regan a contemporary, dangerous edge along with plenty of dark humor. Sultry but also distinctly disturbing, Koval effectively plays up Goneril's deceptive makeup. As with everyone in this strange world, the face offered may have little to do with the real face underneath.
Another standout is the always-extraordinary Philip Fletcher as Edmund the illegitimate son of the Earl of Gloucester, an elder statesman in Lear's court. With ruthless glee, Edmund pits Gloucester against his other, legitimate son Edgar and also manages to seduce both Regan and Goneril in his bid for power. A lithe mover, Fletcher brings a compellingly dark edge to this striking and sensual Edmund. Perhaps coming closest to the kind of clowning that induces nausea is Ben Cunis as Edgar -- though in the rather nightmarish context here it serves a far more interesting purpose. When Edgar eventually turns warrior, Cunis moves with his usual grace and power. As fight choreographer, he dynamically complements Tsikurishvili's sometimes driving, sometimes swirling scenes of battle. As the silent witness to Lear's tragedy, Mirenka Cechova's Fool is understated, nuanced and highly affecting.
KING LEAR




To April 24
Lansburgh Theatre
450 7th St. NW
$40-$55
800-494-8497
synetictheatre.org
Despite the interesting gender switch, the king's relationship with his son Cordelio is Lear's only area of weakness. Shakespeare's Cordelia is meant to love the king more genuinely than her sisters and yet in refusing to pander to gain power, engenders his ire. By the time Lear realizes his mistake it is too late to reconcile with his beloved child. Although we get a strong and memorable scene of Cordelio's rejection at the hands of Lear, we have not seen enough to convince us of the love before the rift. Without more evidence of the bond, even with Kavsadze's effective evocation of agony and Chris Dinolfo's painfully bewildered Cordelio, pathos is lost.
Still, King Lear is an emotive journey of the senses, and even as we follow the lines of Shakespeare's story, Synetic delivers its own potent, existential vibe: Just as the clowns can never escape their sunless patch of dirty sand, so we can never escape human cruelty and frailty. With a work this complex and entertaining you'll never look at a red nose in quite the same way again.
---