Words Worth
The Rivals at Shakespeare Theatre
Plays, novels and other works of art about the comic tendency of language to be misunderstood, misused and misdirected are, as they say, a dime a dozen. It's hard to imagine comedy arising from a more perfect language in which our every word is clear, concise and readily understood.
It's a bit more rare for a play about language to make a lasting contribution to the cultural lexicon, an accomplishment that makes The Rivals stand out all the more. And its current production at the Shakespeare Theatre is a promising start to the fall season.
Young Lydia Languish (Tessa Auberjonois) is spending her leisurely time in the fashionable English city of Bath, where she indulges her unladylike habit of reading stacks and stacks of books, much to the dismay of her overbearing aunt, Mrs. Malaprop (Nancy Robinette). Lydia is of marrying age, but has taken on the notion that wealth is unimportant -- she will only give her heart to someone without money, a romantic strategy designed to renounce her wealthy upbringing and, more importantly, give her aunt fits.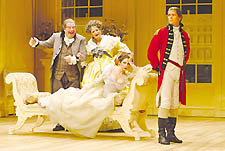 Smitten with Lydia, Capt. Jack Absolute (Hank Stratton) has conspired to woo her in the guise of Ensign Beverly, planning to win her heart before revealing his own aristocratic background. Unfortunately, his father, Sir Anthony Absolute (David Sabin), has plotted to assist Mrs. Malaprop in her socially awkward situation by arranging a marriage of Jack and Lydia. So Jack embarks on a scheme -- and what would a romantic comedy be without its misguided schemes? -- to maintain his dual identity, win Lydia's heart before her hand, and hold on to his own considerable inheritance.
 Meanwhile, the fashion-challenged country nobleman Bob Acres (Tom Story) of Clod Hall plots to woo Lydia away from the scoundrel Beverly, with the help of his friend Jack, while Faulkland tries to overcome his doubts about the love of his betrothed, Julia.
Much of this exposition is delivered within the first minutes of the play, in a conversation between a drunken coachman (Emery Battis) and Jack's valet, Fag (Daniel Breaker). (As is perhaps befitting a two-century-old play so focused on language, this particular character's name has taken on new meanings, and the program helpfully points out that "fag " is a British term for a servant to a military officer.)
Things don't start rolling until Robinette takes the stage -- seizes, more like it -- as Mrs. Malaprop, a woman convinced of her own superiority while completely mangling the language she believes she's wielding as a weapon. Her name long ago passed into the language -- malapropism -- and she lives up to the appellation, always choosing the wrong word for the situation but delivering it with earnest precision: refusing to speak of an indelicate matter because "female punctuation prevents " her, pledging to no longer "anticipate the past, " or referring specific questions about a situation to the man who "has the perpendiculars. " Dominating the stage in her ballooning dress and powdered face, Robinette is a visual and verbal treat who has the audience roaring with laughter.
As the male counterpoint to Mrs. Malaprop's social pretensions, Story's Acres struggles to fit in with the strange urban customs (his gift to Jack of a freshly-killed rabbit from a hunt leads to a funny dead bunny gag). At times Story teeters perilously close to falling completely over the top, but it's fun watching him take the caricature as far as it will go.
The Rivals
by Richard Brinsley Sheridan
Directed by Keith Baxter
The Shakespeare Theatre
450 Seventh Street NW
Through October 19
Tickets $16 to $66
202-547-1122
As the lovers at the heart of the play, Auberjonois and Stratton fare well, if not as memorably as their co-stars. Although she has the more thankless of the two roles, Auberjonois pulls out some delightful moments of double-takes and near-faints, while Stratton appropriately hams it up for the oh-so-hammy Absolute. Unfortunately, the perennial comic wonder Floyd King has a minimal role as Sir Lucius O'Trigger, wringing what he can out of too few moments on stage.
Director Keith Baxter wisely keeps the action in its native time period, making sure that the themes of language, the emergence of independent women, and the changing nature of social class come through the comic material without overwhelming it. Simon Higlett's set design is almost overwhelmingly peach pastel, which accentuates the primary colors of the men but reduces the women to weightless pastel powder puffs.
It's tempting, of course, to create a little ending malapropism to sum up the charming comedy on display with The Rivals. But why bother? Mrs. Malaprop already has a mouthful waiting for you.
---