Jersey Score
Making a welcome return to the National Theatre, 'Jersey Boys' is as crowd-pleasing as a Broadway show gets
Am I in the right theater? That's what you might wonder as Jersey Boys opens when an African-American performer launches into a hip-hop number. In French.
Isn't this supposed to be about four white guys from Jersey, who found success a half-century ago with a doo-wop style of pop?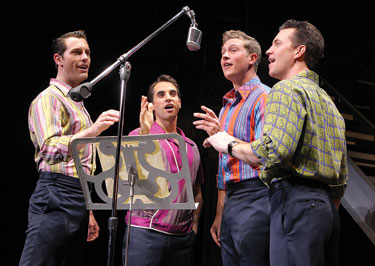 Jersey Boys
(Photo by Joan Marcus)
Well yes, soon enough it tells exactly that story. Frankie Valli (Joseph Leo Bwarie), Bob Gaudio (Preston Truman Boyd), Tommy DeVito (John Gardiner) and Nick Massi (Michael Lomenda) made up the original lineup of the Four Seasons, the most popular band in the land before The Beatles arrived a few years later. The quartet remained wildly popular for more than a decade after, too, though eventually Valli was the only original member left. In fact, the band's several dozen hits still have staying power, and international appeal.
That opening hip-hop number is the 2000 French version of ''December, 1963 (Oh, What A Night).'' It's performed here by the phenomenally versatile Donald Webber Jr., who adds pizzazz to every small part he plays in the show. The song was a late entry in the Four Seasons' repertoire, hitting in 1975, well after two of the four original members had left the group and were eventually replaced.
But the standard English version of the song comes relatively early in the program for Jersey Boys: It becomes the soundtrack to lead songwriter Gaudio losing his virginity to a prostitute at the urging of his three original bandmates.
What, you thought this was light and wholesome family fare? The boys are from Jersey, people -- the shore was dirty well before MTV camera crews came rolling. God bless it, this ain't no Bible Belt state.
Ultimately, though, aside from a few curse words and some suggestive sexual content and intimations of violence -- and a little jarring French hip-hop -- this show is about as non-threatening as it gets. It's also as crowd-pleasing as Broadway comes. At a performance last week at the National Theatre, the crowd could barely contain its glee after the actors playing the band gave spot-on traditional covers of ''Sherry,'' ''Big Girls Don't Cry'' and ''Walk Like A Man.'' The three songs are performed one after another to signify that once the Four Seasons finally solidified itself and broke through to the mainstream, it was an unstoppable force.
Jersey Boys, which just may be the most successful jukebox musical in history, proves that the band was no fluke. The show -- which won four Tonys in 2006, including Best Musical -- is still on Broadway and has been touring now for five years. (There are currently two national U.S. tours running.) And it was only two years ago that it first stopped in D.C. for a prolonged, nearly sold-out holiday run. Now, it's encamped at the National Theatre for a two-month stretch, going through the holidays.
So if you leave feeling slightly underwhelmed, less than enraptured, at a musical that is more style than substance, and stronger in song than in story, well, you'll certainly be in the distinct minority.
Maybe it's better to just focus on what makes this show, and especially this production, work. First and foremost, there's all those hit songs, and the revelation that one of the very best, ''Can't Take My Eyes Off You,'' only got released after Valli struggled valiantly with the label. John Samorian does a fine job leading a nine-piece rock orchestra, helping give these songs even more power.
JERSEY BOYS



and one half
To Jan. 7, 2012
National Theatre
$36.50 to $121.50
202-628-6161
www.nationaltheatre.org
The show also works because of a strong ensemble of 19 actors. And while the four leads get most of the audience's applause, I don't think Jersey Boys would be half as strong without its supporting cast of actors who do double-, triple-, even sextuple-duty, playing multiple bit parts. In addition to Webber, who plays the French rapper and several men in uniform, there are the show's three Angels -- Lauren Decierdo, Denise Payne and Kara Tremel. Without such strong women, this show -- and by extension Jersey itself -- might just fade into the background. Broadway veteran choreographer Sergio Trujillo also adds luster, giving the actors restrained but still charming moves.
Even if Jersey Boys doesn't fully move you, at least the evening will give you a nice jolt. As that French rapper sings, ''Ces Soirées-La.''
---