Rising Star
A memorable role in the film Camp set Robin de Jesús on an acting path that has already garnered two Tony nominations
''I can't even straighten my hair,'' the unforgettable Afro-headed character Michael Flores joked in Todd Graff's endearing indie film Camp from 2003.
''That's kind of where it all started, a movie about kids at a performing arts theater camp,'' says Robin de Jesús, who played the gay Flores. ''The movie was the perfect blending of both worlds.'' And de Jesús has been blending the worlds of theater and film ever since.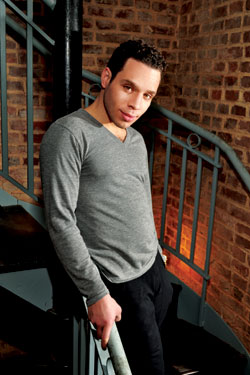 Robin de Jesús
(Photo by Todd Franso)
At the moment, he's in a couple of films preparing to make the festival rounds -- a quirky comedy called Hairbrained with Brendan Fraser and Parker Posey, and the indie Elliot Loves, about a gay Dominican-American boy.
But since Camp de Jesús, only 27, has also earned not one but two Tony nominations: in 2008, for his role in In The Heights as the sassy sidekick Sonny, and in 2010, for his role in La Cage Aux Folles as the sassy housekeeper Jacob.
In real life, de Jesús says, ''I wouldn't say I'm funny so much as a fool. I like to be silly.'' But on stage at least, he's become the go-to guy for comic relief. The New York Times critic Charles Isherwood, for example, singled him out for his ''comic flair'' in his review of In The Heights.
This weekend, de Jesús will provide the laughs in an embellished staged reading of Two Gentlemen of Verona (a rock opera) at Harman Hall as part of Shakespeare Theatre Company's ''Bard's Broadway.'' The musical, written by John Guare, Mel Shapiro and Galt MacDermot, was an adaptation of Shakespeare set in the modern, multi-cultural milieu of New York City. It went on to win two Tony Awards in 1972, including the top crown of Best Musical, and also earned composer MacDermot a nomination for his music, something that had eluded him a few years earlier with Hair.
''It really is kind of one of those shows that's under the radar,'' says de Jesús, who admits he was unfamiliar with it before The Shakespeare Theatre Company contacted him. He plays the character Speed, a servant to the show's Lothario, Valentine.
De Jesús grew up in Norwalk, Conn., an ethnically diverse former factory town where his Puerto Rican family settled 50 years ago. His high school had a stellar band and music department, which initially inspired him to pursue a career in classical music. But then he started acting in school musicals and at a local community theater. ''I became obsessed,'' he says. ''I was that kid that would go to the library and get 10 CDs from shows and listen to them all and read the synopsis and read everything about it, and learn all these random facts that no one care about, but I found to be incredibly fascinating.''
Though his parents couldn't afford to pay for acting lessons or send him on field trips, de Jesús says teachers and others would offer to cover his expenses. In particular, just as he was setting his sights on a stage career, a Norwalk woman slipped him a $50 bill and told him to go see his first Broadway show. He chose Rent, later to become his first Broadway show in which he starred as part of the ensemble. ''I remember just riding the train back home to Connecticut afterwards from Grand Central, totally excited reading the Playbill.''
''That town was so good to me,'' he says of Norwalk. ''There were so many wonderful people who encouraged me.''
De Jesús started coming out in high school, but Camp pushed him further. ''I think the whole experience of the movie and coming to New York helped me process it more and get to a truer place,'' he says.
The actor would like to get beyond simply playing comedic roles on stage, and would love to tackle Shakespeare. He especially fantasizes about playing Romeo in Romeo and Juliet. ''I'm more likely to play Mercutio, but maybe somebody will take a leap,'' he says.
De Jesús is happy to keep playing both gay and straight. ''I actually have this new mission in my career to pursue it, and be very out about my gayness,'' he says, ''but not be pigeonholed as an actor who only plays gay roles. It's important for me personally, and I think socially it's important.''
Robin de Jesús appears in Two Gentlemen of Verona (a rock opera) Friday, Jan. 27, at 8 p.m., Saturday, Jan. 28, at 2 p.m. and 8 p.m., and Sunday, Jan. 29, at 2 p.m. and 7:30 p.m. Sidney Harman Hall, 610 F St. NW. Tickets are $35 to $65. Call 202-547-1122 or visit shakespearetheatre.org.
---