Glad Tidings
A Christmas Carol at Ford's Theatre
God bless David H. Bell.
His 1987 adaptation of Charles Dickens' A Christmas Carol has become an annual tradition at Ford's Theatre, and with good reason. This year Ford's has revitalized their trademark production with new Victorian scenery by James Leonard Joy and updated period costumes from David Kay Mickelsen. It's still the same old redemptive odyssey of Ebenezer Scrooge, yet somehow it remains powerful enough to melt away frosty hearts every time.
Dickens would most likely approve of Bell's savvy script, which still preserves his brand of English phrasing such as "I'll be bound, " or Scrooge's dramatic cry out to "Deliver me! " But what Dickens would not have imagined is the level of sophisticated humor Bell contributes to his Carol, resulting in a play that appeals to both adults and children alike. Children are still enchanted by the magical effects of a classic holiday tale, especially one presented with special pyrotechnics and grand visual imagery, but adults will appreciate the simple, sweet story of one man's life in review.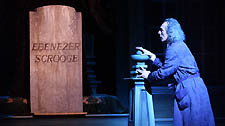 Steven Crossley is back again to revive his miserly Scrooge in the role that he originally created for the 1987 production. Crossley is crazy as ever with his quirky physical comedy and urgent conviction of the man who needs to be saved from his Christmases Yet to Come. He is a perfect miser, coldhearted and cantankerous, and his transformation to a warmhearted human begin is a sheer joy to watch unfold.
The rest of director Timothy Gregory's crew of dynamic Dickensian characters are nothing less than wonderful. Whether in large roles (Jim Beard as a gleefully stout Mr. Fezziwig and the Ghost of Christmas Present) or parts of a much smaller variety (Brian Jordan Riemer as an understated Tiny Tim), the actors go beyond stereotype to present a richer kaleidoscope than what is offered through literary description. Sherri Edelen is a stand-out with her fabulous comic timing as Mrs. Fezziwig/Mrs. Dilber and with sprinkles of her delightful voice in the chorus.
Of course, what is A Christmas Carol without music? Carols abound, and with Kevin Wallace's musical direction of Rob Bowman's arrangements, the effect is heavenly. Bowman's beautiful use of seasonal bells and harp add a lovely dimension to his score. And traditional holiday songs are cleverly arranged and executed to perfection.
A Christmas Carol
By Charles Dickens
Adapted by David H. Bell
Ford's Theatre
511 10th Street NW
Through 12/31
$29-$45
202-347-4833
www.fordstheatre.org
Mickelsen has designed a plush, velveteen landscape of new costumes that look fresh and elegant against Joy's street scenes. Scrooge's office space and the Cratchits' home are relatively basic in nature, but Joy is triumphant at re-creating a new, multi-functional boudoir for Scrooge's surprise specter visits.
There is no better way to usher in the holidays than by celebrating a well-staged evening of A Christmas Carol. Whether you find yourself in the holiday spirit or not, Gregory's latest production is a perfectly merry affair that will tickle your funny bone and warm your heart. The new costumes and sets may dazzle and shine, but the real attraction at Ford's remains a potent, surprisingly fun story that fervently reflects on the "richness and goodness " of humankind.
---