Bird Brain
Aaron Posner's ''Bird'' is edgy and endearing, while Sarah Wayne Callies steals ''The Guardsman'' at the Kennedy Center
A gloriously neurotic, hilariously self-aware cri de coeur as told through a cleverly irreverent adaptation of Chekhov's The Seagull, Aaron Posner's Stupid Fucking Bird is the kind of bold that pays off. Speaking directly and unapologetically to an oft-neglected demographic – the swearing literate – Posner is, without doubt, an original American wit. He is dryly funny, educated and yet oozing the soulful sensibility and unpretentious frankness of an increasingly elusive species: the sensitive East Coast male.
But much as he may share a genre, Posner is no Woody Allen derivative. He tills his soil with a relentless quest for answers to his angst, mainly via his protagonist (and apparent playwriting alter ego) Con, but also in some of the adapted monologues of his other characters. Though Chekhov may have set an enduring structure of relevant and resilient themes, Posner pushes and expands them into urgent modern corners. And, in keeping with Chekhov's posit in his play that drama needs ''new forms,'' Posner offers his own – sometimes amusing, sometimes poignant – experiment by inventively breaking the fourth wall. Let's just hope it doesn't become a trend, since it's a liberty few will handle with Posner's skill.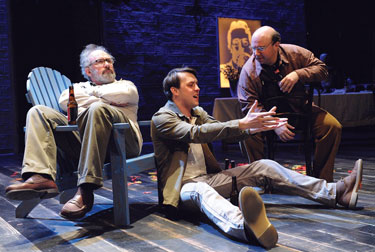 Stupid Fucking Bird: Rick Foucheux, Brad Koedand, Darius Pierce
(Photo by Stan Barouh)
In the role of Con, the young playwright caught in the shadow of his dominating mother, his own self-doubt, and an unrequited love, Brad Koed delivers the necessary feverish urgency with nuances of anxiety, jadedness and some well-placed bewildered despair. Though he has great comic timing, Koed also carefully maintains Con's seriously teetering sense of self with a realism that makes the play's final moment both startling and moving.
Purveyor of much of the warm and contemporary humor of the piece, Darius Pierce gives the unrequited Dev, another young man in a state of longing, a perfectly pitched geeky savvy. The third player in the triangle of the unrequiteds, is Kimberly Gilbert as Mash, conceived here as a vaguely grunge/goth songstress with no interest in cheering up. Balancing the comedy with the more morose moods of the piece beautifully, she is compelling and memorable. As dominating mother Emma, Kate Eastwood Norris brings a strong contemporary brittleness that works well in Posner's context while Rick Foucheux brings the ideal blend of craft, realism and nuance to the quiet, poignantly anchoring, character of Sorn. Interestingly charismatic if not quite as mesmerizing as the character might be, Cody Nickell's Doyle is almost too likeable. As Conrad's love object and Doyle's target, Nina, Katie deBuys nicely exudes a young woman of shallow, if passionate, dreams and their gritty aftermath, though there is not quite enough frisson with either Con or Doyle.
STUPID FUCKING BIRD





To June 23
Woolly Mammoth Theatre Co.
641 D St. NW
$20-$67.50
202-393-3939
woollymammoth.net
Overall, the cast has the kind of synergy rarely seen outside a troupe that acts together regularly. And combined with director Howard Shalwitz's deeply simpatico execution of Posner's words, this wildly funny angst with its reflections, tongue-in-cheek and otherwise, on art, love, Chekhov and the theater-going public, is not to be missed.
Although also on the theme of the private lives of actors – and written by a playwright who injects his own angst into his material – Ferenc Molnar's early 20th century play The Guardsman, as translated by Richard Nelson, is a far different animal. An old-world comedy with a rather sad and cynical heart, its plot is reminiscent of the Batman film in which Val Kilmer's Bruce Wayne led Nicole Kidman's Dr. Meridian in a merry, sexy dance. Courting her as both the ''caped crusader'' and the billionaire, it was anyone's guess, at least for a while, whether she would go for the tuxedo or the rubber. Short of giving her a Cosmo quiz, it was the easiest way for Bruce to see into the heart of his girl.
Similarly, in The Guardsman, The Actor, worried that he is losing The Actress, his notoriously fickle wife, second-guesses what she is after and then disguises himself as a made-to-order suitor. Although traditionally played for laughs, translator Nelson notes his aim to reclaim the heartbroken Molnar's more authentic intent in which there is no sign of a happy ending.
Unfortunately, director Gregory Mosher blurs this interpretation with a mood that vacillates between the silly and the sort of serious. The result is neither fish nor fowl.
This unevenness is further evident in the two leads, with one responding to the darker themes of the translation and the other playing to the rafters. Trying for the complexities here is Sarah Wayne Callies, who as The Actress proves quickly that she can do more than outrun the walking dead. An actor of remarkable presence, she commands the eye and the ear even in repose. She convinces as a big and entitled personality and as a restless wife and does much to suggest the complicated woman behind the ambivalent flirting.
But she sits incongruous against Finn Wittrock's Actor, who, played loud and energetic, seems an improbable match. As charismatic and good looking as Wittrock may be, his Actor presents as far too young for Callies's Actress. And they share no sexual chemistry – nor its echo - that would explain the impetus for this marriage. And with the ruthless banter delivered without much in the way of subtext, it is hard to see where any affection may have lain, even if it has since been seen off the premises. Matters are not helped by Wittrock's Guardsman, who tempts farcical when he's not secretly angsting over his wife's intentions. Without more, neither he nor The Actor convince as true contenders for the brooding subterranean needs of Callies's Actress. Thus, without some sense of love or sex – lost, reclaimable or possible – the ''Will she? Won't she?'' of the traditional farce eludes as does the poignancy of the darker reading Molnar intended.
THE GUARDSMAN



To June 23
Kennedy Center
Eisenhower Theater
$54-$95
202-467-4600
studiotheatre.org
Doing their best, the supporting cast members keep the humor and pace intact, with Shuler Hensley standing out for the understated humor of his Critic, even if his devotion to the actorly couple is inexplicable.
And so, despite Nelson's good intentions, The Guardsman offers little of the play Molnar may have wanted, and not all that much of the play he didn't.
---