Kissing to be Clever
Gender-bending ''Bye, Bye Birdie'' by Gay Men's Chorus
"There aren't a lot of shows you can do with a group of one hundred twenty five men," says Jeff Buhrman, Artistic Director of the Gay Men's Chorus of Washington, as he recounts his efforts to find a vehicle for the troupe's bi-annual Spring musical.
Happily for Buhrman, there existed Bye Bye Birdie. The Charles Strouse-Lee Adams musical comedy, which opened on Broadway in 1960 and starred Dick Van Dyke, Chita Rivera and Paul Lynde, has long been a revival staple of the theatre world. The chorus aims to put its own mark on this wholesome story of an Elvis-like rock star who, after he's drafted into the Army, agrees to a publicity stunt in which one lucky fan gets a kiss goodbye That lucky fan, Kim MacAfee, is customarily a girl.
Not in the chorus's production.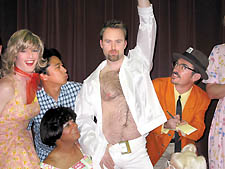 Putting on a happy face:
The cast of Birdie
"In our production," beams Buhrman, "Kim is a boy."
And not a boy in drag playing a girl but a boy playing a boy.
"And the two romantic leads," Buhrman continues, "are going to be a man and a man."
While there remain a few choice women's roles that will be portrayed in drag, Buhrman says that the group's gender-bending intentions were purely satirical -- and a little political.
"What we've done," he says, "is to create a small-town America where sexual orientation is not an issue. We're also making some timely commentary on gay marriage."
Isn't that a little difficult, considering the show's action takes place in Sweet Apple, Ohio in 1959, a time not known for friendly attitudes toward gays? And most certainly not in middle America.
Buhrman sighs and concedes the point. "We're doing it in a 1959 setting, but we're creating a world that we hope someday will exist, a town where sexual orientation is not an issue.
"We like to take things that may be considered traditional and turn them a little bit to give them new meaning, " he continues. "And I think we've done that successfully with Bye Bye Birdie. We've changed pronouns. But we did not touch the script. It's a wonderful script, a funny script, a touching script.
Bye Bye Birdie
Produced by the
Gay Men's Chorus
of Washington
3/26 & 3/27
8 p.m.
3/28
3 p.m.
Lisner Auditorium
21st & H Sts. NW
$15, $30 & $40
202-432-SEAT
www.gmcw.org

"And, " he concludes, "who would think you could do a show like Bye Bye Birdie and turn it into social commentary? "
Point, match Buhrman.
The chorus is hoping for a major success along the lines of their of their staged version of Wizard of Oz of a couple years back.
"To do something like this is an incredibly large and expensive undertaking," says Buhrman. "We're mostly a volunteer organization. We have people making costumes and building sets. It's fully professional from a technical aspect."
The director, John Moran, is a paid professional, as is the accompanying orchestra. The chorus members, however, volunteer their time and efforts toward the cause. The incorporation of a professional milieu into an amateur setting allows for a much higher degree of quality than is typically found in most community theatres ventures.
"It's utterly delightful experience for the chorus," says Buhrman. "They love being a part of it. It's something different from a stand-up choral concert. And we're the only gay chorus in the country that does these full-blown Broadway style musicals. I prefer getting away from that stand up and sing mode once in a while.
"One of our goals," he says, "is to not just sing beautifully but to entertain."
---