Sweet-Smelling Success
Flowers on Fourteenth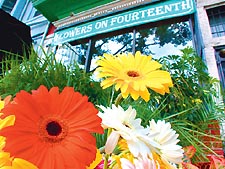 Flowers are a welcoming sign for passers-by at Flowers on 14th.
Starting with a part-time job when he was in high school, Jeff Fritz has spent his life in flowers. Even his partner, Harold Beyer -- "in business and in life" -- owned his own flower business in Miami before joining Fritz in D.C. Today, the pair can by found plying their fragrant wares at Flowers on Fourteenth (1718 14th Street NW; 202-667-7888).
"We opened the day before Sept. 11," says Fritz, echoing other business owners who came to 14th Street just when the economy began to falter. And like the others, he managed to weather the storm. "We had several parties that were cancelled because nobody wanted to come to Washington. That first year was shaky. When we first started, we were making five deliveries a day. Now it's 40."
Along with deliveries, Fritz says Flowers on Fourteenth has found success with a number of corporate clients, like the Ellington apartments on U Street, the lobby for which he supplies flowers regularly, and with a large gay client base.
The 14th Street Corridor

  · 
14th & U: A Revitalized Corridor

  · 
This Mama Keeps on Going

  · 
Day care goes to the dogs on 14th Street

  · 
Sweet-Smelling Success

"We do cater to a gay clientele," Fritz says. "We're gay-owned and operated. We do a lot with Whitman-Walker Clinic and Capital Pride. We've done flowers for PFLAG, Lambda Legal, and the Mautner Project." Then, of course, there are the floats his shop has entered in the Capital Pride Parade -- one a first-place winner.
Fritz insists, however, that while it's important to have ties to the community, it's quality that has been key to the shop's success. "We're more personal [than other florists]," says Fritz. "We're not a large factory-type shop. Our success is due to the product we put out. People see our name on the delivery envelope, and they're happy with what they've gotten."
Although Flowers on Fourteenth has proved a success for Fritz and Beyer, Fritz plans to increase the store's foot traffic by making the shop even more inviting from the sidewalk. In the meantime, he invites anyone to stop by and smell the roses, or any other flowers. "We like people to just come in and browse. Everybody's welcome."
---